The View is capitalizing on the upcoming Presidential election, with daily discussions and debates on their differing political perspectives. The current team of Whoopi Goldberg, Joy Behar, Sunny Hostin, and Meghan McCain is consistently mixing it up at the table, bringing notoriety to the show as a necessary stop on the campaign trail.
Yet several years ago, ABC brass made the call to change directions on the politically-heavy tone and fired two of its most vocal co-hosts in the process. Former Executive Producer Bill Geddie remembers being wracked with emotion when he had to let the pair of panelists go.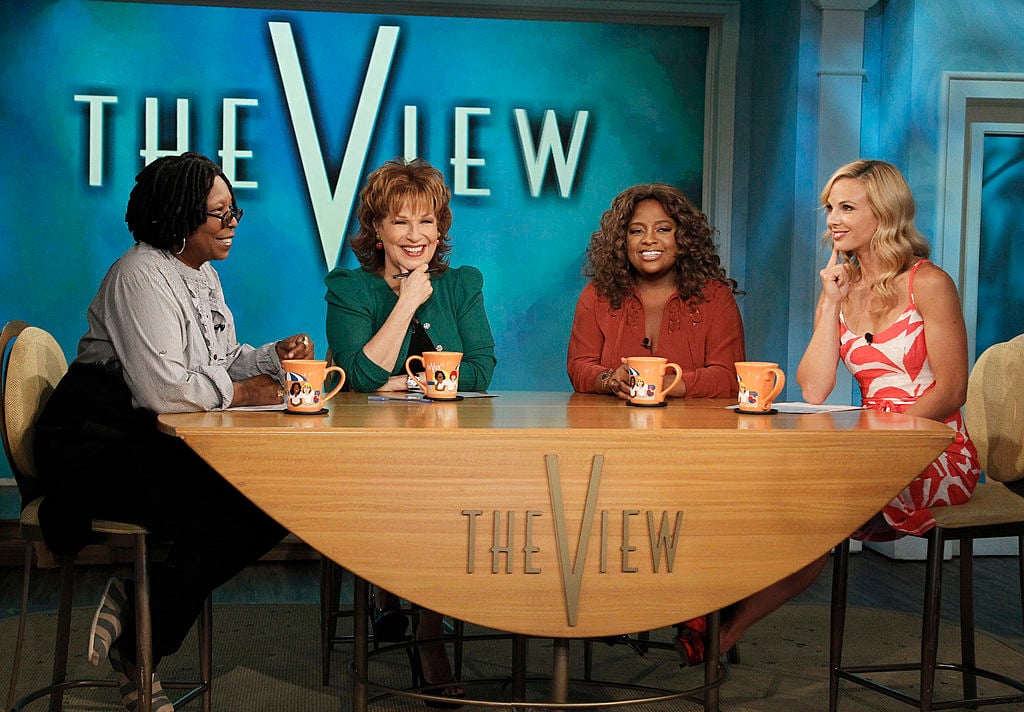 Change of 'View'
In 2013, network execs felt The View needed to ease up on politics and hone in on lighter topics. Making that decision in content meant that some heads would roll.
"We need to change things up and get rid off your far left and far right – Joy and Elisabeth [Hasselbeck] – and make the show more daytime friendly," ABC executive Vicki Dummer told Geddie in 2013, according to Ramin Setoodah's book Ladies Who Punch: The Explosive Inside Story of The View.
Geddie disagreed with the shake-up, calling it "the kiss of death." With show creator Barbara Walters close to announcing her retirement, Geddie countered that the show shouldn't make any changes until Walters was gone.
"My whole argument was, 'You can't tell what the show is going to be until Barbara leaves. Why not let her leave and we can regroup and see how the show feels?'" he had posed to Dummer.
Yet the network exec didn't want to wait. "No, the show is hemorrhaging now," Dummer told Geddie. "We need to change now."
Ax falls on both sides of the aisle
According to Setoodah's book, Behar revealed she wasn't overly shattered when Geddie and ABC exec Randall Barone showed up at her door bearing the bad news, saying she knew it was time for her to move on.
"I had no clue really," Behar told Setoodah. "I was like, 'Hi, guys.' They were very sheepish because they knew they were making a mistake… I had been planning to get out of there. It's very hard to give up a high-paying job. It's like leaving a marriage."
Hasselbeck's reaction was more emotional when Geddie and Barone darkened her door. "They said the show would be going in a less political direction, and that I could leave that day or the next day or stay for the remainder of this current season — but, come September, they were replacing me," the former View co-host wrote in her 2019 book Point of View: A Fresh Look at Work, Faith, and Freedom.
The television personality pleaded to keep her seat at the table but to no avail. "I could not breathe — literally, could not breathe," Hasselbeck revealed, asking how she could change their minds. "'Was there something I could have done differently? Can I do something differently now? If you would just tell me, I would work on that — and make it better …' I kept asking, trying to figure out how to get it back, trying to get it all back."
Geddie's point of 'View'
The former executive producer vividly remembers the difficult day, recalling Hasselbeck's meltdown. "She was emotional. I was emotional," Geddie said. "When you do a show like The View, these people are forced to give themselves every day. They walk out relatively unprotected and have to say something that may get them in trouble. So our jobs as producers is to know they have a soft place to land. … We got really close."
Having to fire two of his top co-hosts personally affected Geddie. "I was trying not to cry like a baby," he admitted. "To me, Joy – as much as Barbara and Meredith – was a very important part of the show. It was hard for me to let her go. It was hard for me to let Elisabeth go. It would have been easier for me to go with them."
Despite the unfortunate turn of events, all parties involved have moved on to success. Behar returned to The View's table in 2015, and Hasselbeck is set to serve as a guest co-host next week. Geddie is now executive producing Tamron Hall's talk show, which has been renewed for a second season.
Source: Read Full Article