From working as a serious news anchor to moonlighting as a game show host, Julie Chen has served in different positions and faced many hardships. She's battled racism and sexism both on the job and at home, yet she has persevered to become one of the most well-respected anchors and hosts in television history. 
Except for a short stint with ABC NewsOne, Chen has enjoyed the majority of her career at CBS, starting as an intern during college for "CBS Morning News," alongside Bravo's Andy Cohen. She worked as a producer and served as a field reporter for a channel in Dayton, Ohio, which led to a decision that, while difficult and problematic, opened many doors for the young Chinese-American newswoman (keep reading for more on what she did to fit in). She eventually landed a seat at the anchor's desk for "CBS Morning News," and was a co-host on "The Early Show." She spilled secrets as co-host of CBS's "The Talk" for nine years. She also landed the long-term job of host for CBS's wildly popular reality show, "Big Brother," which she has hosted since its debut in 2000.
With the debut of "Big Brother" Season 23 right around the corner, let's take a look at Julie Chen's look and career over the years.
Julie Chen was always interested in the news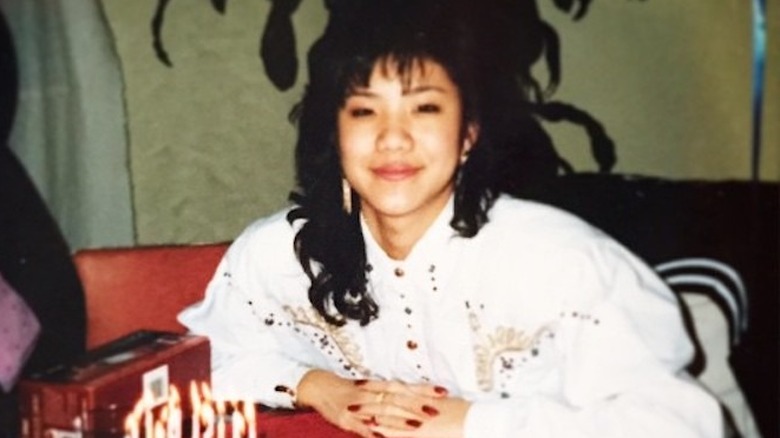 Born in Queens, New York, and attending junior high school in Whitestone, Julie Suzanne Chen is the third daughter of Chinese immigrants. Education, at school or elsewhere, was extremely important in her home, and Chen and her sisters watched television news with their father every night.
Chen was inspired when she saw ABC broadcaster Kaity Tong on the news, sometime in the early 1980s. "Any time you saw any Asian face [on television]… it was a very big deal," Chen told BuzzFeed in 2015. Her mom, Chen's champion and best friend, encouraged her, saying she could do that too. "It was like she planted that seed and I watered it myself," Chen said. "From that point forward, I just didn't know any other path."
Chen set out to study journalism, graduating from the University of Southern California in 1991. Her internship and early assistant positions earned her a post-graduation job as a field reporter in Dayton, Ohio. While she gained a lot of training and experience on the job, she also faced ingrained racism and sexism. Her bosses told her, "we're going to start you at a much lower pay than everyone else." She told BuzzFeed, "They were like, 'We're doing you a favor.'"
Julie Chen underwent surgery because of ingrained racism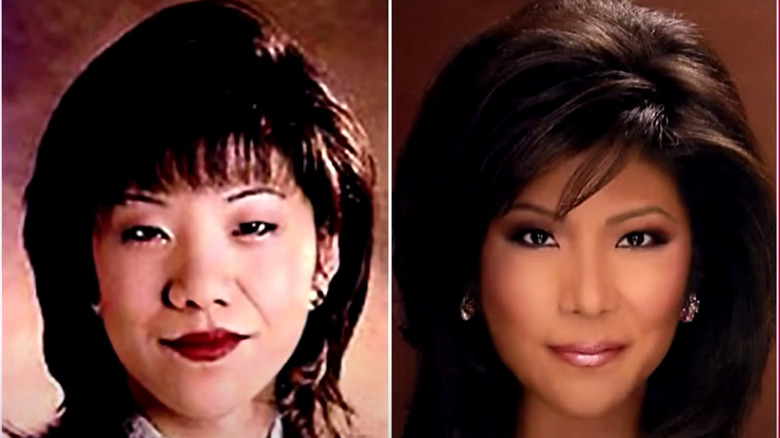 While on the field in the Ohio news market, Julie Chen saw firsthand how much racism was simply part of the culture in American television. While she had experienced racism from classmates as a child, she hadn't seen much of it while attending high school and college in big cities (New York and Los Angeles, respectively). But in Ohio, she told BuzzFeed, "I go to Dayton and I'm the only Asian person in the entire town."
Driven to succeed, she asked her boss for time on the anchor desk, and he told her no, in the most insulting words possible. Chen told the story in a 2013 episode of "The Talk" and said her boss told her, flat-out, that she would never sit on the anchor desk because she's Chinese. "How big of an Asian community do we really have in Dayton? The audience can't relate to you because you're not like them," she recalled her boss saying. He also told her, "Because of your Asian eyes … you look disinterested."
While Chen was smart enough to look for a job elsewhere, she sadly was told the same thing by a big-time agent, who also recommended that she undergo plastic surgery to "make your eyes look bigger." Not ready to take on an unjust system at the tender age of 25, she went through the surgery, and admitted, "After I had that done, the ball did roll for me."
Julie Chen worked beside Bryant Gumbel and wasn't paid what she's worth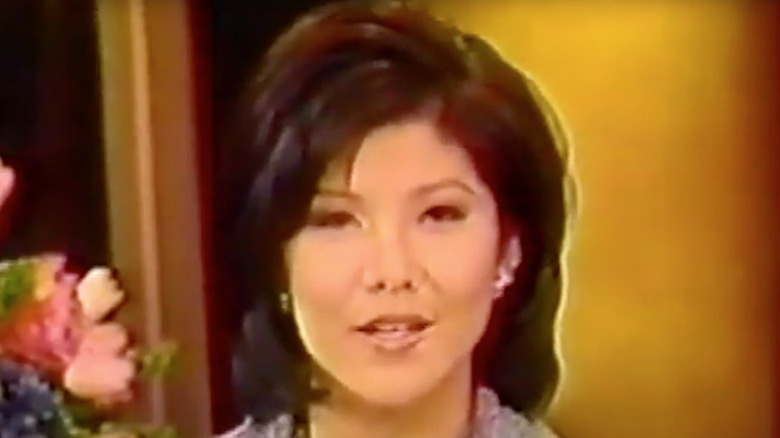 Having learned the sad lesson that a mid-western market wasn't welcoming to an Asian-American news anchor, Julie Chen chose to move back to New York in 1997. She joined WCBS, despite being told she was making significantly less than her colleagues and was told she was "lucky we're giving you this shot," as she relayed to BuzzFeed. But it was better than working in Ohio, and it turned into bigger and better jobs.
She quickly joined host Bryant Gumbel for a new morning program called "The Early Show," serving as a newsreader. It was exactly where she wanted to be, and at only 29 years old: on a nationally syndicated newscast alongside a highly respected professional journalist. But they told her flat-out that they were paying her less. "Again, they were like, 'The starting salary is normally around $350,000 a year, but we'll pay you $125,000.'" While tired of the unfairness regarding her salary and their brazen response, Chen also admits, "it made me work harder to prove myself."
Chen enjoyed success on "The Early Show," working on it until 2011, impressing higher-ups at CBS while also doing appearances on other series, such as late-night talk shows, "Iron Chef America," and various awards shows. She also caught the attention of then-president of CBS, Leslie Moonves, who would eventually become her husband. He also suggested her for a new position that would increase her recognition tenfold.
Julie Chen initially declined the role of Big Brother host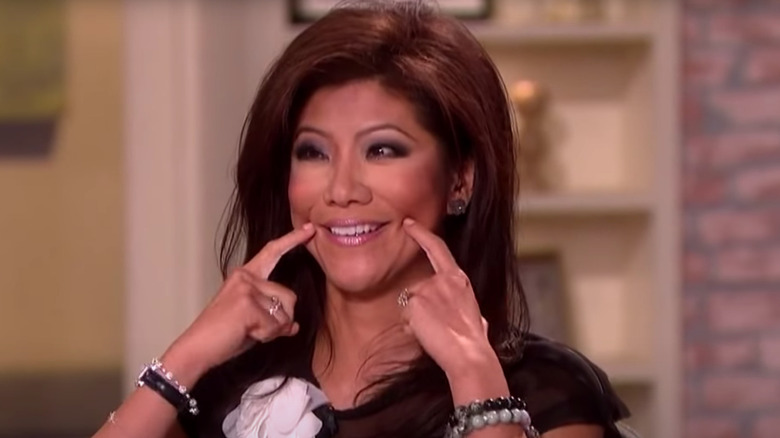 Though Les Moonves didn't really know who Julie Chen was yet, other than her being employed at CBS, he recommended her, in 2000, for the position of host for a new reality show called "Big Brother." "I did say, 'How about Julie Chen? She's young, she's pretty, she's hip, and she's a newsperson," Moonves told BuzzFeed. They wanted a newsperson for the job, thinking that it would lend the show more credibility. But Chen initially declined, because her ultimate goal was to be a foreign correspondent on "60 Minutes," and she was concerned that she would lose that same credibility "Big Brother" wanted from her.
But they also told her it would be "insubordination," if she refused because they "could technically assign" it to her. However, she realized she had some clout this time, and that they had no one else they were considering for the position — plus a very short timeline, having approached Chen on June 4 for a July 5 premiere date. She took the position, flying from New York to Los Angeles on a weekly basis, to film the show while still working on "The Early Show."
Chen initially faced harsh criticism online, earning the not-so-kind nickname "Chenbot" because of her static and frequently similar delivery of the words "but first" in her hosting duties. Over the years, though, Chen became a huge draw for the show, winning fans and reclaiming the "Chenbot" name.
Julie Chen shows her real self on The Talk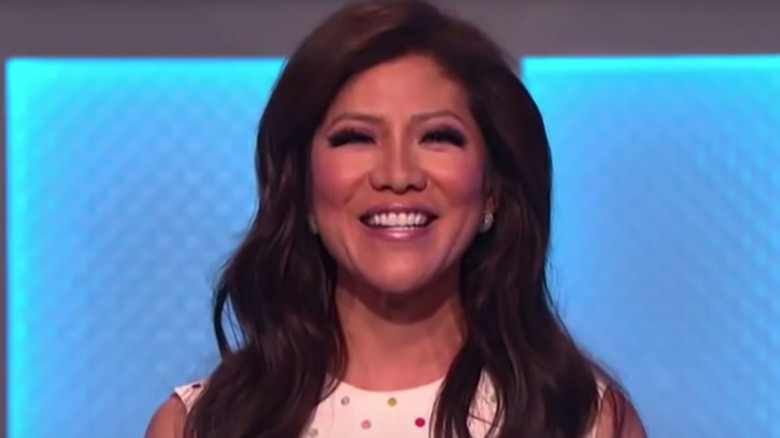 Midway through her tenure on "Big Brother," Julie Chen was chosen as a host on CBS's "The Talk," the talk show competing with ABC's successful "The View," per BuzzFeed. Though Chen was initially intended to moderate the other speakers on the show, including Sharon Osbourne and executive producer Sara Gilbert, they quickly realized Chen should have a bigger presence and share her opinions. While it was challenging for the veteran newscaster to put herself into the story, audiences related to that vulnerability and personal view. She spilled secrets about her life and family, and fans loved it. The show even won Chen her first Emmy, for Outstanding Writing Special Class, in 2014.
Though marriage and children were not something Chen wanted, thinking it would interfere with her "60 Minutes" plans — especially after learning that her grandfather was a polygamist, as she shared on "The Talk" in 2014 — that is exactly where she finds herself. She married Les Moonves in 2004, and they welcomed their son, Charlie, in 2009. Chen left "The Talk" in 2018 while allegations of sexual misconduct against Moonves circulated, choosing instead to "spend more time at home," as she told the audience via a pre-recorded message. 
While she can no longer see being a foreign correspondent for "60 Minutes," she's perfectly happy with her life as Julie Chen Moonves and is excited about the new season of "Big Brother."
Source: Read Full Article