Freeform's "Cruel Summer" brought us back to the '90s with the thrilling and hot story of Kate Wallis (Olivia Holt), who mysteriously vanishes, and nerdy high schooler Jeanette Turner (Chiara Aurelia), who comes into her own after Kate's disappearance — and who's life is shaken by her mysterious return. Bouncing between three different summers, the show's twists and turns kept fans hooked in a big way, leading its premiere to become the network's "best-ever series debut among young adults," according to TV Fanatic. It was no surprise when Freeform renewed it for a second season in June 2021.
Despite its suspenseful storyline, the show — which was produced by Jessica Biel — made room for romance, providing us with plenty of sizzling eye candy and sexy rendezvouses between Jamie Henson (Froy Gutierrez) and both Kate and Jeanette, as well as the teens' parents, as Greg Turner (Michael Landes) finds himself in a blooming relationship with bar owner Angela Prescott (Brooklyn Sudano) after his daughter's legal troubles put a dark cloud over his marriage.
While hearts were heavy on the teen drama, its performers have had a little more luck when it comes to relationships. These are the real-life partners of the "Cruel Summer" cast.
Olivia Holt and Tony Ferrari are head over heels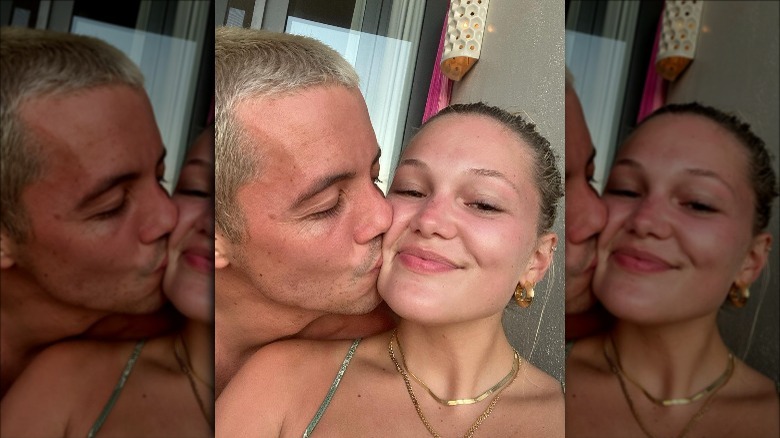 Actor-singer Olivia Holt brings palpable humanity and heart to her portrayal of Kate Wallis on "Cruel Summer," a popular high school student who seemingly has it all together until she's abducted, leaving her friends and family in shambles. Offscreen, the "Bad Girlfriend" singer seems to have it much more together. 
According to J-14, the Disney Channel and Kidz Bop alum was previously attached to social media star Ray Kearin and fellow actors Luke Benward and Taylor Lautner. But these days, she seems to be writing a love song of her own with boyfriend Tony Ferrari. Back in 2015, the indie singer-songwriter was named an "Artist to Watch" by Young Hollywood. Citing Sam Cooke, Marvin Gaye, Al Greene, and Nat King Cole as his influences, he told the outlet, "I find inspiration in my own experiences with love — finding it, being in it, losing it, and the crazy journey of self-discovery that comes with it."
No doubt the "Let's Buy a House" artist has found inspiration in his relationship with Holt, as the duo went Instagram official in August 2020, when Ferrari shared an adorable photo dump in honor of his beau's birthday. Holt returned the romance in January 2021 for Ferrari's big day, gushing, "I like doing life with you a lot." The two even worked together on "Cruel Summer" — sort of. Ferrari produced two songs for the season finale, including the haunting cover of Radiohead's "Creep," which serves as the soundtrack to the episode's equally haunting closing scene.
Harley Quinn Smith and her boyfriend are Instagram official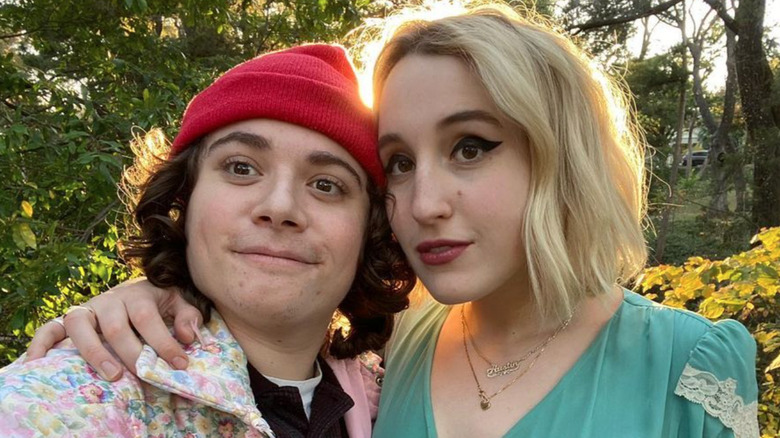 Harley Quinn Smith has made a splash in "Cruel Summer" as the quirky and rough-around-the-edges Mallory Higgins. The show marks her first big TV role, though she's also made appearances in projects like "Supergirl" and famous dad Kevin Smith's "Jay and Silent Bob Reboot" and "Yoga Hosers." Like her character, Harley Quinn also identifies as bisexual, as she told Advocate in 2021.
At the time of this writing, Harley Quinn Smith is dating actor Austin Zajur, who's starred in films like "Scary Stories to Tell in the Dark" and "Fist Fight." His father is Michel Zajur, the president and CEO of the Virginia Hispanic Chamber of Commerce, according to Richmond Times-Dispatch, and his family owned and operated Virginia's beloved Mexican restaurant La Siesta until 2009.
The two have been dating since 2019, according to Zajur's Instagram. In a romantic one-year anniversary post, he wrote, "It's cliche but you truly are my home, my earth angel, and my light that will always be there no matter how dark the tunnel." He later showed off his long locks in a photo of the couple, writing in June 2021, "When ur hair is longer than ur lady's." Smith returned the love, commenting, "Your hair is an actual masterpiece." It's the little things!
Blake Lee's love life is the stuff of rom-com lore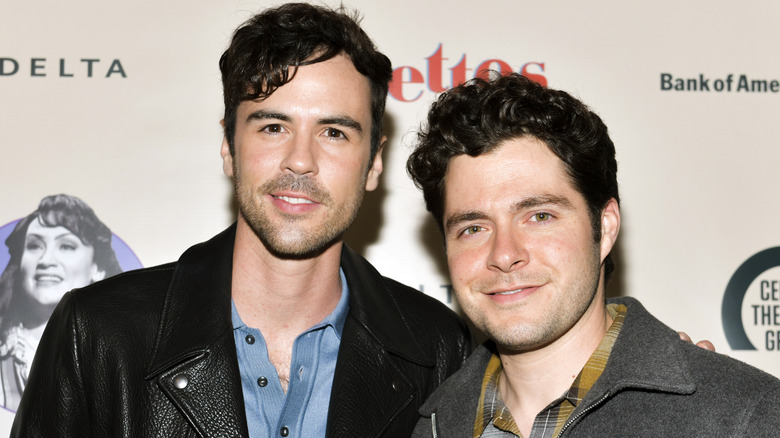 Although he plays the villainous Martin Harris in "Cruel Summer," actor Blake Lee seems much sweeter offscreen. Case in point: As of this writing, his latest film was 2020's "The Christmas Setup," Lifetime's first LGBTQ+ holiday movie starring Lee and his real-life husband, Ben Lewis.
Lee and Lewis met in the men's room at the 2010 premiere of "Scott Pilgrim vs. the World" in Los Angeles. Lewis had a small role in the film while Lee was there to support friend Aubrey Plaza. After exchanging numbers at the afterparty, the two "did long distance for nearly three years," the longtime couple told Out, before moving in and getting married. While they weren't out professionally before tying the knot, Lee said the announcement helped both him and their relationship: "It made me a happier person, and my career was so much better after that."
After a decade together and competing for similar roles as "brown-haired white guys," the duo showed off their romance onscreen in "The Christmas Setup." The fact that it was a big step for queer representation wasn't lost on either actor. "It doesn't even occur to you necessarily that you're not represented in something like this until somebody comes along and does it," Lewis told Yahoo! News. It was a dream collaboration — for the most part! "There were some fleeting moments of tension," Lewis joked to the outlet. "But luckily, one of the benefits of being together for 10 years is that we've really honed our communication skills."
Brooklyn Sudano's real-life romance inspired this song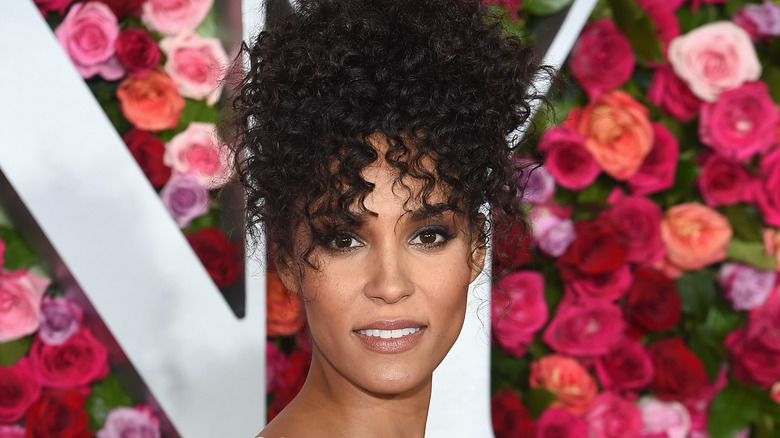 Brooklyn Sudano portrays Angela Prescott, "Cruel Summer's" friendly bartender who strikes up a romance with Jeanette's father — and delivers some real talk to his daughter every now and then. "Angela is a bad *ss," she told Pop City Life. "She's not messing around but she also will give you a hug at the same time."
As the daughter of two established musicians, Donna Summer and Bruce Sudano, Brooklyn Sudano admitted to Black Film back in 2007 that it was sometimes hard for people to "see [her] clearly without anything else attached to it." She explained, "For one reason or another, people often get kinda caught up with it." Still, it looks like the actor found someone who loves her for who she is with husband Mike McGlaflin. The two married in 2006, a romantic affair that inspired her father's song, "It's Her Wedding Day," per The Tennessean. 
McGlaflin is a luxury goods designer who's worked in everything from streetwear to sneakers. As of this writing, his most recent collaboration on a pair of white low tops with Local Authority sold for a hefty $545 each, according to his website. Meanwhile, Sudano and McGlaflin live a private life together in Los Angeles with their daughter, according to the New York Post.
Michael Landes found his happily ever after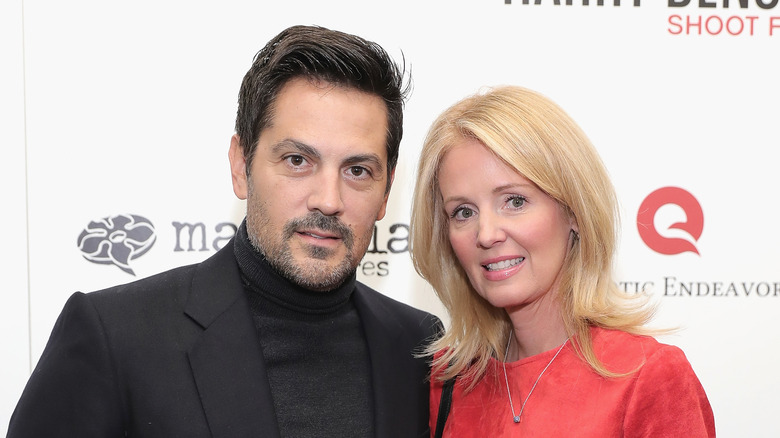 As Jeanette Turner's father, Michael Landes plays a pivotal role in "Cruel Summer" as both his daughter's defender and the realtor who sold Kate Wallis' abductor his home. Landes has been acting since he was a teen, finding his niche on the small screen after making his first appearance as Winnie Cooper's boyfriend on "The Wonder Years" at age 15 — but it was only a handful of years later that he met "Burlesque" and "Desperate Housewives" actor Wendy Benson (now Benson-Landes) on the set of "The Gentleman from Boston" (which was later released as "Beacon Hill"), according to Tribute.ca. 
The two married in 2000 at St. Thomas Episcopal Church, per The New York Times, and now live in Los Angeles with their two kids, Mimi and Dominic. In addition to her own acting career, which she kicked off by attending London's prestigious Royal Academy of Dramatic Art, Benson's father happens to be noted Scottish photographer Harry Benson, who's photographed everyone from The Beatles to presidents of the United States. For his part, Landes has a great bond with his father-in-law, becoming an avid proponent of his work. 
"I have been married almost 16 years now and I feel like I am as educated, if not more educated, about Harry than my wife or her sister," Landes told the Daily Record in 2016. "She says, 'Ask Michael — he knows more stuff.' It's just because I love him."
Sarah Drew and her husband had a swoonworthy start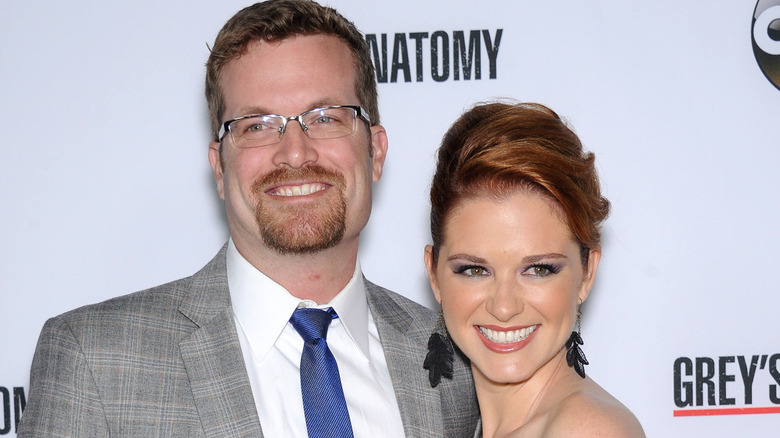 Between "Cruel Summer" and "Grey's Anatomy," Sarah Drew has lived through her fair share of drama on screen, but her real life has played out a lot more like a rom-com: Drew and her husband, UCLA lecturer Peter Lanfer, met at summer camp! 
"We worked at a camp together as camp counselors, and then he wooed me with hand-written letters for eight months before we saw each other again," Drew told Us Weekly in 2018. After their "super old-fashioned" courting stage, Lanfer proposed to Drew on a boardwalk, where disaster nearly struck. "He opened the box, and the ring actually went flying out and almost fell down the boardwalk into the sea, never to be found again," Drew said. "But we got it, and we threw it on my finger and hugged, and we're just … crying all over each other. … He's a romantic, through and through." 
As a professor, Lanfer teaches classes on the history of Judaism and Christian religions. He attended Dartmouth and Yale, and has an average rating of 3.5 out of 5 stars on Rate My Professor. Not too shabby! The happy couple also share two kids — son Micah and daughter Hannah — and Drew is super thankful she met her man before her acting career took off. "I did escape unscathed from the dating world," she said to Us Weekly.
Barrett Carnahan is happily married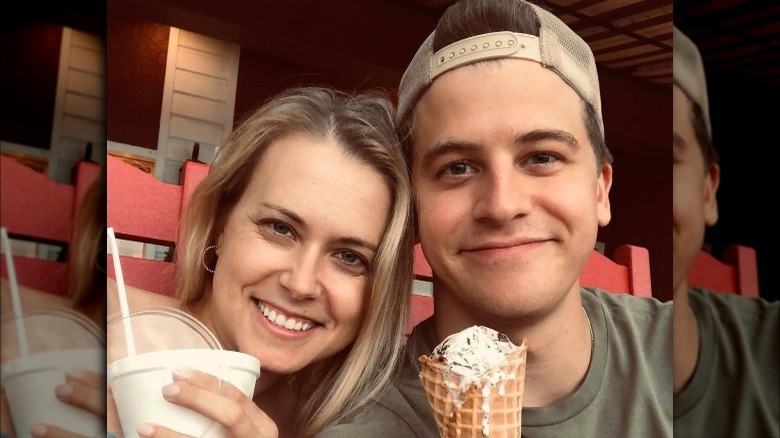 "Cruel Summer" marked a big break for Barrett Carnahan, who portrays Jeanette Turner's brother, Derek, on the series. Still, the Ohio-born actor has been working hard on his career ever since he moved to Los Angeles after graduating high school. Before his turn on the Freeform hit, Carnahan appeared in shows like "The Thundermans," "Alexa & Katie," and "Cobra Kai."
On the personal side of things, Carnahan married Nina Kubicki in June 2020, according to his Instagram, in a beautiful ceremony not too far from a group of peacocks! "I can still hear [them] calling in the distance, occasionally interrupting our vows," Barnahan joked in the post's caption. The couple's meet-cute is even more adorable than their wedding pics. According to another Instagram post, Carnahan met his wife ten years before their wedding after he "took a shot in the dark" and sat next to Kubicki on a bus. "One of my favorite things to do is close my eyes, vividly remember that moment, then open them to look at this [photo of Kubicki in her wedding dress]," he gushed. Aw! 
Meanwhile, Kubicki, who is also an actor, runs her own succulent décor business through Etsy called LillyPress.
Andrea Anders is flying solo after her split from Matt LeBlanc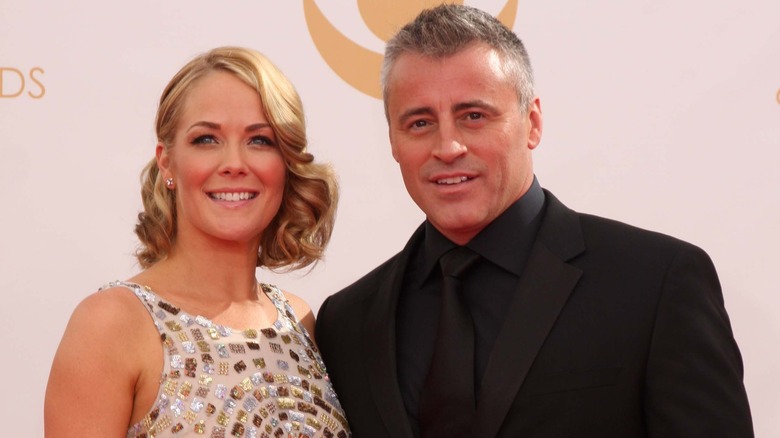 Andrea Anders plays Kate Wallis' overbearing mother in "Cruel Summer" with a sweet smile, a flawless exterior, and a hearty helping of unhealthy perfection. Outside of the Freeform drama, Anders has appeared in shows like "Better Off Ted," "Modern Family," "Young Sheldon," "Mr. Mom," and the short-lived "Friends" spinoff, "Joey," where she struck up a romance with the star himself, Matt LeBlanc.
The two were together for more than eight years before announcing that they'd called it quits in January 2015, according to Us Weekly. The split followed rumors in tabloids that LeBlanc had cheated on Anders at a Halloween party in 2014. His rep denied the allegations to E!, but the couple split just months later. While LeBlanc has since been linked with Northern Irish producer Aurora Mulligan, per The Sun, it seems as though Anders is taking time to focus on her career and herself ever since their headline-making breakup.
Neither actor has made any public statements about the end of their relationship in the press, apart from the "Friends" star's rep further stating to Us Weekly that they'd "decided to end things some time ago." Though Anders hasn't discussed her love life, she's been candid about becoming a mother while promoting "Mr. Mom." In a 2019 interview with KTLA, she quipped of her then-toddler, "I think, 'Oh I would love to just be home all the time,' and then she annoys me, and I'm like, 'I gotta go.'"
Source: Read Full Article