ARTICLE HIGHLIGHTS
How will the Browns retaliate against the Frasers in season 6 of 'Outlander'?
Will Lord John Grey return?
Will Fergus and Marsali welcome more children in season 6 of 'Outlander'?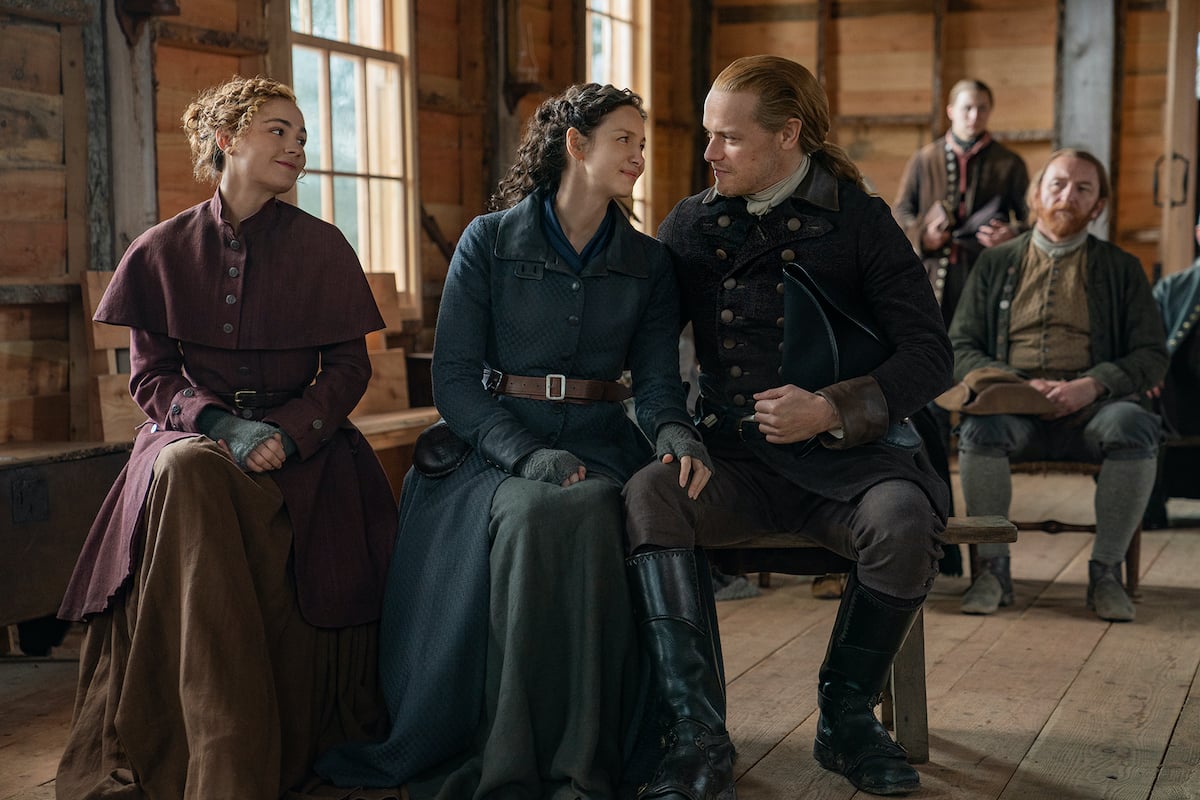 Outlander season 6 won't premiere until early 2022. This means the duration of the current Droughtlander will end up being nearly two years. That's a long wait between seasons, and fans are curious to know what happens next. Here are seven burning questions that Outlander fans need answered when Droughtlander finally ends.
7. Which side of the American Revolutionary War will the Frasers and MacKenzies fight on?
Season 6 takes place in the year leading up to the Revolutionary War, but fans won't see Claire (Caitriona Balfe) and Jamie (Sam Heughan) trying to change history this time around. Instead, they will be forced to take sides. Or, maybe they will try to stay out of it completely.
Jamie and Claire have Fraser's Ridge because of the British crown. But they know that history is on the side of the American patriots, and America is Brianna's (Sophie Skelton) home. Will they continue to fight alongside the redcoats when the conflict hits North Carolina?
6. Where is Wendigo Donner in 'Outlander' season 6?
When Lionel Brown and his men held Claire captive, she came into contact with a man named Wendigo Donner. He noticed some odd behavior from Claire, like her shouting "Jesus H. Roosevelt Christ." Which led to him asking her if she knew who Ringo Starr was.
After discovering that Wendigo was a fellow time traveler, Claire begged him to help her escape. But he refused. When Brown's men were killed, Wendigo was gone and hasn't been seen since. All he wants to do is get home, and he knows Claire has gemstones for time travel. Will he be back for those gemstones in season 6?
5. Will Claire's early penicillin invention have consequences?
Claire has a habit of trying to change history, and she was successful with her early invention of penicillin. During season 5 of the STARZ hit, the 20th-century surgeon discovered the antibiotic nearly a century and a half before it was historically created.
Making major changes to history are expected to have a butterfly effect, and Claire's invention of penicillin in the 18th century — changing the medical advancement timeline — will surely have some consequences.
4. How will the Browns retaliate against the Frasers in season 6 of 'Outlander'?
After Claire was kidnapped and assaulted by Lionel Brown and his men, Jamie and his clan massacred her captors. Then, they took a badly injured Lionel back to Fraser's Ridge and questioned him.
Claire was determined to treat Lionel and honor her oath of "do no harm," but Marsali (Lauren Lyle) wasn't having it. She avenged Claire and her family by injecting water hemlock into Lionel's neck and killing him.
When Jamie returns Lionel's body to his brother, he's told, "You did what you must…as will I, when the time comes." So, the question becomes: how will the Browns retaliate?
3. Will Lord John Grey return?
Fan-favorite Lord John Grey (David Berry) was last seen at Fraser's Ridge during a visit with Jamie's son, William. They eventually left so Lord John could attend to business overseas amid the growing tension in the colonies.
Will he be back in season 6? Or, since the season will be a short one, will fans have to wait for season 7 or later for the return of Lord John Grey?
2. What happened to Young Ian?
Young Ian (John Bell) and Frollo returned to Fraser's Ridge in season 5 after spending months with the indigenous Mohawk people. He never explained why he came back, but viewers did notice a major change in the character. What happened to the vivacious and happy Young Ian? Why is he so somber?
Fans know that he experienced a special love with one of the Mohawk that has left him extremely depressed. He obviously has a dark, sad story to tell. Will fans find out what it is in season 6?
1. Will Fergus and Marsali welcome more children in season 6 of 'Outlander'?
Jamie and Claire and Roger (Richard Rankin) and Brianna are the main couples of Outlander. But for many fans, there is no couple that can beat Fergus (César Domboy) and Marsali. Fergus has been a criminally underused character in the TV version of Outlander, and fans are hoping to see him and Marsali grow their family in season 6.
In book 6 — A Breath of Snow and Ashes — Fergus and Marsali welcome their fourth child, Henri-Christian. He's born a dwarf, which makes Marsali fiercely protective of him. The problem is that in the 18th century, many people were of the belief that a child born with disabilities was a punishment from God.
If Henri-Christian arrives in season 6, will Marsali believe his disability is punishment for killing Lionel Brown? Will she stop being Claire's apprentice?
Season 6 of Outlander is expected to premiere on Starz in Feb. 2022.
Source: Read Full Article