You know how every year Chris Harrison is like "This is the most dramatic season ever!" Well, this has truly been the most dramatic season ever. And it's somehow not even over yet. Tonight, we'll finally find out whether or not Peter pops the question to Hannah Ann now that Madison has fully rejected him, but PLOT TWIST!
The Bachelor dropped a preview for tonight's final episode where Madison makes her triumphant return on camera. In the preview, Chris Harrison, professional meddler, sits down with Madison and asks "so you regret what you did?" to which Madi responds "yeah." Chris also tells Madison that Peter doesn't know he's visiting her, and asks if she loves him. Like, !!!!.
Even Peter doesn't know how it all ends. Watch #TheBachelor Finale tonight at 8|7c on ABC. pic.twitter.com/p1RcgxadMX
What's unclear here is where and when Chris visited Madi. I'm thinking he didn't fly all the way to Alabama in the middle of the show's trip to Australia, which means Madi was probably still in Peter's proximity when this conversation went down. And judging from the fact that we see Chris interrupt Peter right before his final rose ceremony to deliver some ~major news~, I'm personally thinking Peter finds out that Madi regrets her decision.
That said, according to Reality Steve, this convo is actually Chris telling Peter that Hannah Ann might leave—so, guess we'll just have to wait and see what happens!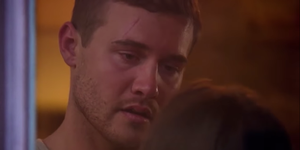 Source: Read Full Article