We don't know when and if we'll ever see Prince Harry and Meghan Markle join the royal family again for the annual walk to church service on Christmas morning at Sandringham. The Duchess of Sussex spent the first two years she and Harry were together at the estate in Norfolk but in 2019, the couple celebrated in Canada before moving to California in 2020.
The royals exchange presents on Christmas Eve, attend mass on Christmas Day, and enjoy a festive lunch and dinner feast together. But how do Meghan and Harry celebrate Christmas on the other side of the pond?
How Prince Harry and Meghan are reportedly spending Christmas this year
While the Duke and Duchess of Sussex did not publicly confirm their Christmas plans yet this year, no one expected them to travel to England given the tensions with some royals following their interview with Oprah Winfrey.
A royal aide told Page Six that the Sussexes were invited to the Sandringham House but the queen would have been notified well in advance if they were going to attend. So as of now, it doesn't appear that everyone is ready to sit down and have dinner together. "There's a lot that goes into the logistics and the planning of the family Christmas, so of course, staff knows that Harry and Meghan are not coming. If they were, they would have communicated it to their family by now," a member of the royal household said.
Harry has only been back to England twice since moving to the U.S., while Meghan has not been back at all.
The couple welcomed a daughter, Lilibet Diana, earlier this year which makes it their first Christmas as a family of four. They are expected to celebrate the holiday at their Montecito home with Meghan's mother, Doria Ragland. The duchess loves to cook and a number of media outlets have reported that she and Harry could entertain some Hollywood pals as well including Katharine McPhee and David Foster.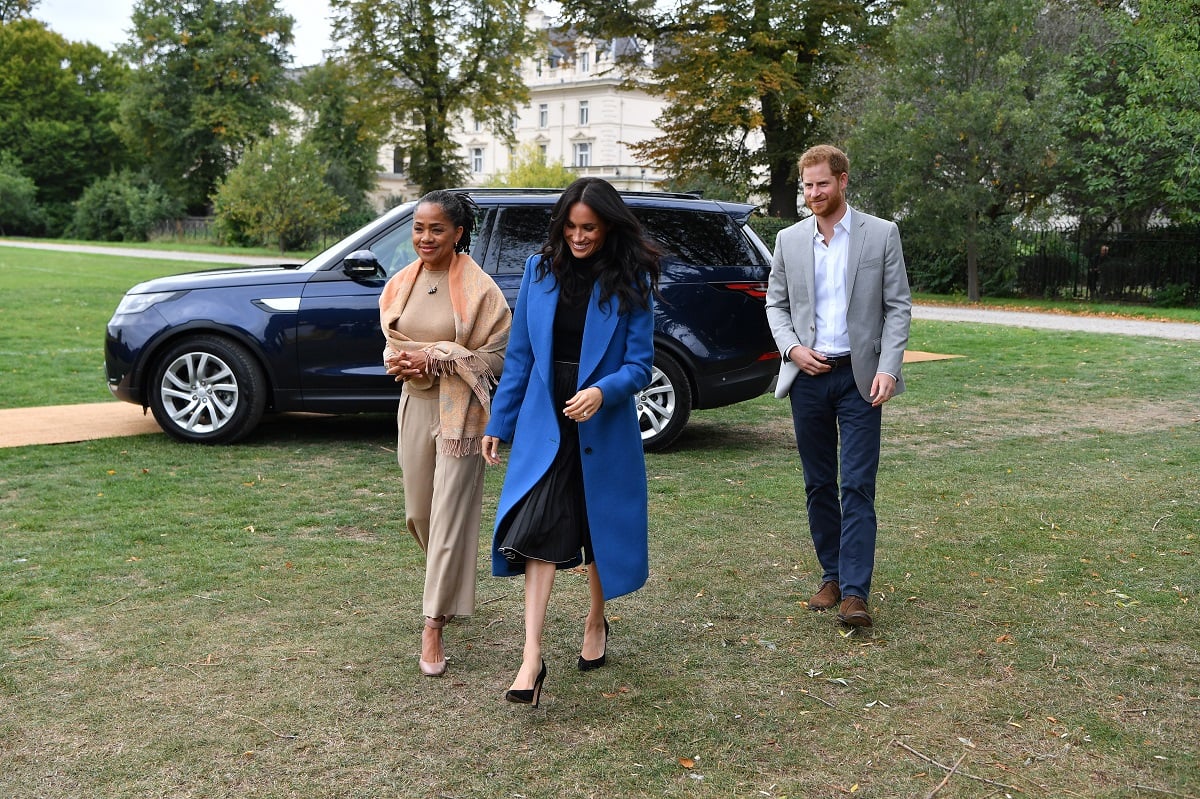 Prince Harry was mistaken for a tree salesman when the couple picked out their tree
The Duke and Duchess of Sussex celebrated their first Christmas in 2020 at their Montecito home as well. We know that they went Christmas tree shopping in Santa Barbara and that's when Harry was mistaken for tree salesman.
According to Express, the pair visited a store just a few miles from their house called Big Wave Dave's Christmas Trees & Pumpkin Patch. The couple reportedly thought they had the all-clear that the store was empty so they could go in and shop. However, there was still one family inside and that's when someone mistook Harry for a tree salesman.
James Almaguer, who is a sales associate at the shop and was there the day Harry and Meghan were, relayed the story and said that a child still inside the store walked up to Harry and asked him if he was a worker.
"Megan and Prince Harry came into my work today and we sold them their Christmas tree," he announced on social media at the time. "It was anticlimactic, but a very, very interesting experience. There was one family in there and their stoked little son ran through trees up to Harry and asked if he worked here not knowing who that is."
Almaguer added: "They seemed like very nice people, honestly. Meghan sounds very kind and Harry sounded and acted like a chill lad honestly. I'm really glad they liked our trees. We got the best we could get. Very appreciative."
Source: Read Full Article