Since her smash debut single "Royals," fans have fallen in love with New Zealand-born singer Lorde. The "Stoned At The Nail Salon" hitmaker released her long-awaited third studio album, "Solar Power," in August this year, which peaked at No. 5 on the US Billboard 200 and became her third consecutive top 5 album in the country.
As of this writing, the LP has a Metascore of 69 on Metacritic, meaning that the work has received generally positive reviews. NME in particular loved "Solar Power" and gave it a score of five stars. "This is an album that grows in quiet stature with every listen, new nuggets of wisdom making their way to the surface, peeking through its beautiful instrumentation that weaves a stunning, leafy tapestry," critic Rhian Daly wrote. "Few artists strike gold on every record they create but, for the third time in a row, Lorde has done it again, crafting yet another world-beater."
To promote the album, Lorde had plans of performing at the 2021 MTV Video Music Awards. Unfortunately for fans, she dropped out a week before the event. Keep reading to find out her reason why.
Safety protocols stopped Lorde's vision from coming to life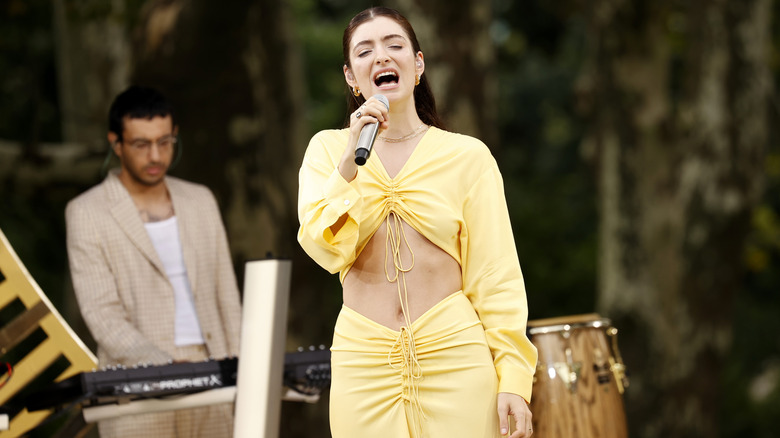 The 2021 MTV Video Music Awards are known for their big performances and this year will be no different. According to MTV, many high-profile names from Alicia Keys, Kacey Musgraves, and Lil Nas X will take to the stage on September 12. Lorde was originally announced for the line-up but has since dropped out. MTV first broke the news via Twitter, writing, "Due to a change in production elements, Lorde can no longer perform at this year's show. We love Lorde and cannot wait for her to perform on the VMA stage in the future!"
Fans were so disappointed, Lorde sent a newsletter out to reassure fans that she is "totally fine" and admitted that the safety protocols related to the covid pandemic stopped her vision from coming to life, per People. "I saw some people were very concerned about me pulling out of the VMAs, you're so sweet, I'm totally fine!" the "Green Light" hitmaker wrote. "It's just that we were planning this insanely amazing many-bodied intimate dance performance, not fully understanding the (very necessary!) safety protocols that are in place, and the masking and distancing just meant it wasn't gonna be what I dreamed, and you know I can't make something less than outstanding for you guys."
The good news is that Lorde reassured fans that there will be more that they can look forward to. "I hope you understand," she continued. "There will be many more TV performances, don't you worry."
Source: Read Full Article