Fine artist and designer Julian Victor LaMarr Gaines, better known as Ju Working On Projects, has a unique dual-pronged perspective on sneakers. Before finding success in the art world as a painter whose works are collected by everyone from Rick Ross to The Whitaker Group founder James Whitner, Juwop (as his friends call him) was a South Side Chicago native who attended Northern Michigan University on a partial football scholarship and painted on sneakers — out of both of necessity and curiosity.
This unique blend of interests in "aesthetics and athletics," as Juwop puts it, enabled him to approach sneaker culture from two vastly different — but ultimately converging — standpoints. He first gained notoriety for his hand-painted Air Force 1s, and in 2018 he parlayed a strong relationship with
Kenny Huynh
HYPEBEAST: You grew up on the South Side of Chicago in the '90s. Tell us what sneaker culture was like there — did everything revolve around Michael Jordan?
Ju Working on Projects: I was always immersed in sneaker culture growing up. I was born in 1991, right in the height of the Chicago Bulls' first run of championships, and there's no childhood picture of me that I'm not wearing Jordans in [laughs]. My sister was even named after Jordan! As I got older, my parents would get me shoes less frequently because I had siblings and would grow out of my shoes so fast. I'd usually just get two pairs of Air Force 1s at Christmas, a white pair and a black pair. And in Chicago, unlike New York, we wore Air Force 1 Mids too. Outside of sports shoes, those two Forces would be my only pairs for the year. I'd try really hard to keep my white pair clean, and when they started to get a bit dirty I'd paint on them to prolong their lifespan.
Were you painting them other colors, giving them a refresh, a little bit of both?
I was painting them all sorts of colors. I'd do everything from my own colorblocking to spray-painting them gold. All the types of things that customizers would do, I was doing as a kid. I think that's why the customs I made as art objects later on in life were a bit more refined than some of the other customs I'd see. I started customizing my shoes out of necessity, because I didn't want to get teased at school for having dirty shoes. That childhood care and attention to detail carried over to my later work.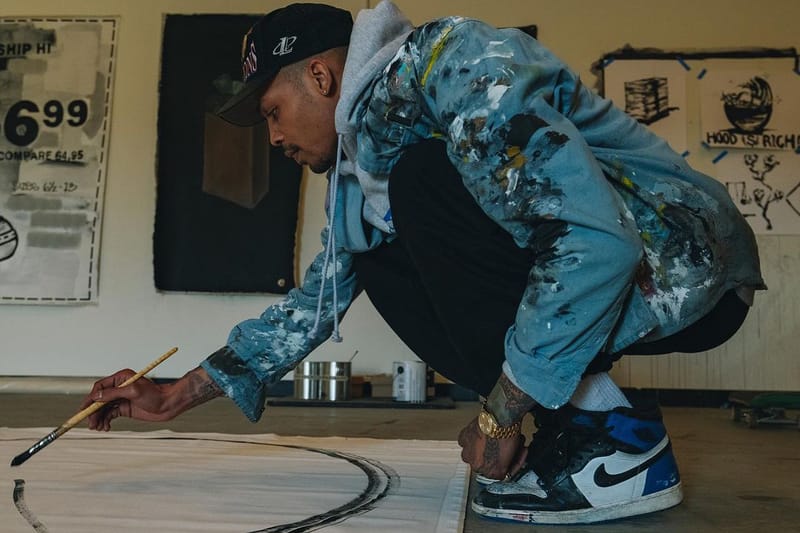 G.labrie
A combination of expression and necessity.
Facts. Eventually I made a business out of painting T-shirts and shoes, and when I realized I could monetize my art I decided that I wanted to continue pursuing art as a career.
So as you grew up you were experiencing sneakers through the lenses of art and sport simultaneously?
Absolutely. I also played a lot of basketball and football growing up, and had shoes from a lot of different brands so I experienced sneaker culture through that lens as well. One thing I never had was Grant Hill's FILAs though. They were on that 2 for $89.99 deal at Foot Locker, but if my mom didn't like a shoe I couldn't get it … and she didn't like those [laughs].
Fast forwarding a bit, I was still painting shoes when I graduated high school and went off to play college football. I had a partial athletic scholarship to Northern Michigan, and studied art, drawing and painting. I'd paint on my cleats before games, and would be talking to my coaches like "yo, can I redesign our jerseys?" They'd be like "dude, get the f*ck out of here and go to class." I thought our jerseys were really subpar, and that's when I realized how much aesthetics play into athletics. The former propels the latter: if you look good, you feel good and if you feel good you play good.
"I want to feel like Michael Jordan every day of my life. I paint with a certain competitiveness and really challenge myself — I got that mindset from athletics and I've really channeled it in my artwork."
Do you carry that same "look good, feel good, play good" mindset over to your fine art practice? You're known to paint in grails like the fragment design x Air Jordan 1 and the Air Jordan 1 Hi '85 "New Beginnings."
When I go into my studio, I treat it like the gym. I want to feel like Michael Jordan every day of my life. I paint with a certain competitiveness and really challenge myself — I got that mindset from athletics and I've really channeled it in my artwork. Nobody in art school was competitive, which is cool, but you can't win if you're not competing.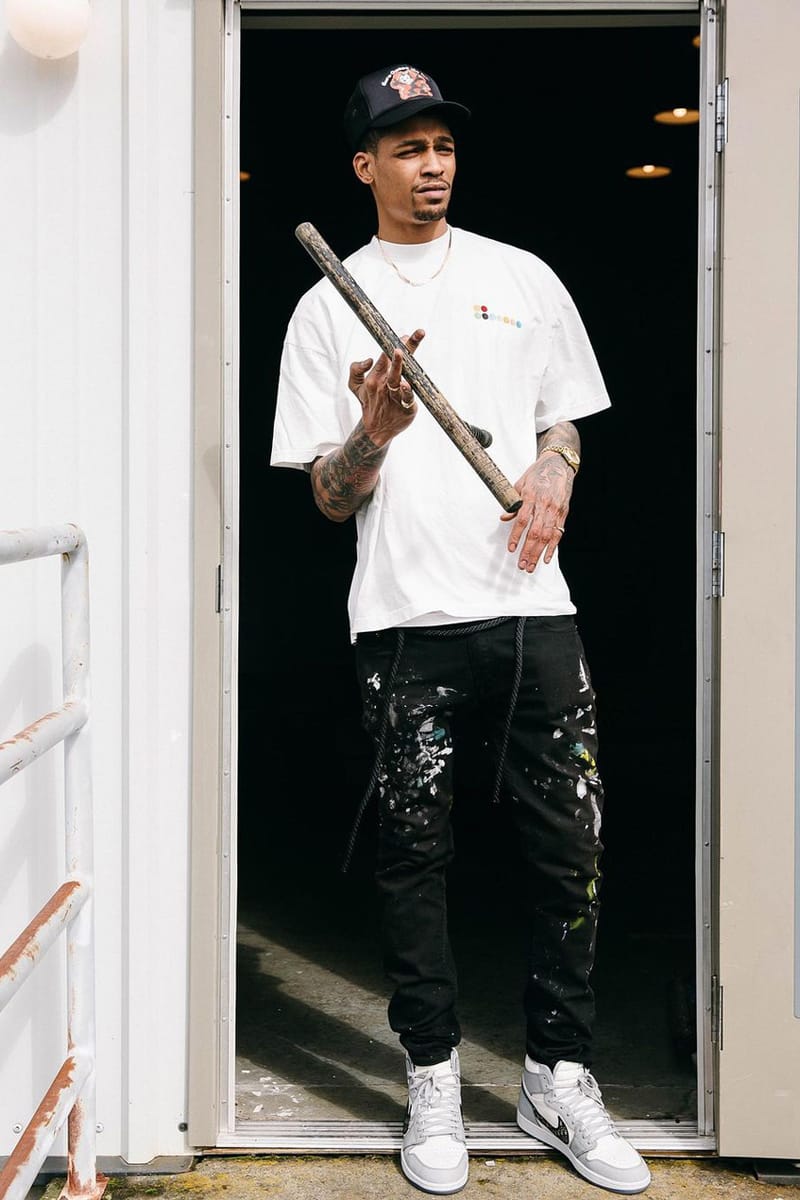 Lovewasher
Did you become involved with Nike immediately after college?
Yeah, after college I started working at Station 23 in Chicago. My first role was as a brand ambassador, and I really started to psychoanalyze what brand loyalty looked like on the South Side of the city, learning more about how people in Oregon created the perfect shoe for my community when they'd never been to my community. Honestly, my original goal was to become a product line manager.
How did you make your way out to Oregon and become known at Nike headquarters, a world in and of itself?
I booked a one-way flight out to Portland after college, and was just living on my best friend's couch, pursuing a career as an artist. When I came out here, I didn't have two nickels to rub together and was $20,000 in student loan debt, but kept grinding, painting, showing up at Nike HQ and taking meetings.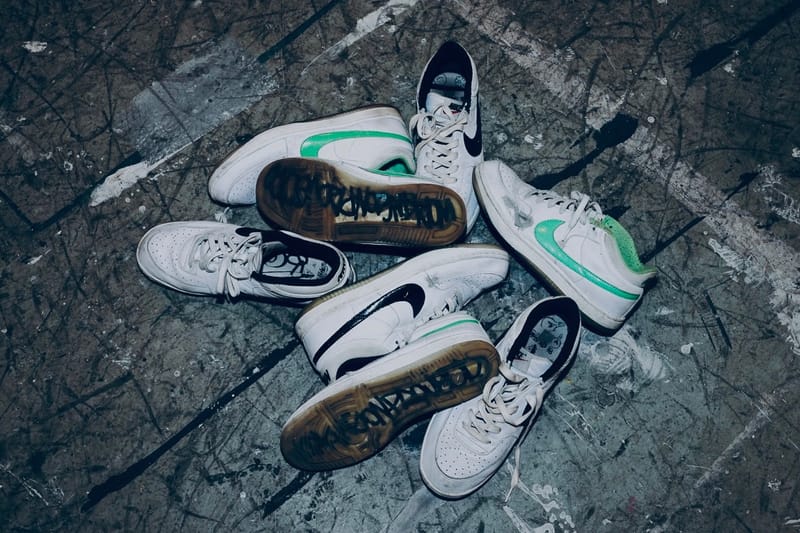 Kenny Huynh
And you wound up with your own Nike collaboration. Of course you did both a Sky Force and an Air Vortex, but we're focusing on the former today. Tell me a little bit about the inspiration, and about how you and Nike decided on the Sky Force? It's a pretty under-the-radar silhouette.
My goal was to create the "creative's shoe." When I brought this idea to Nike, I pointed out to them that there are thousands of brilliant people creating athletic footwear and apparel on their main campus, and the majority of them can't dunk a basketball. Their talent is their creativity, and when they're creating they need a shoe that does for them what an Air Jordan does for a basketball player — make them feel like Jordan, so they can perform to the best of their abilities. The "Game Worn" theme was inspired in part by how I liked to wear old Jordans because I'd pretend that MJ gave me his shoes right off the court.
Once my pitch was "appreciated" — I'll say it like that — they asked what silhouette I'd like to use, but told me I couldn't use the Air Force 1. I wanted to do something Force-related though, so I dug deep into the Nike archives. Though I was born in the '90s, I've always been very inspired by the '80s, and what the parents of '90s babies were doing before they had us. During that hunt I found the Sky Force. The Sky Force High was way too high and the Sky Force Low was too streamlined, so I opted for the three-quarter cut version.
Your version is quite different from the OG Sky Force — different midsole, mostly altered shape and more. Why did you make those changes?
I slimmed down the upper a bit for a nod to the Air Jordan 1, which is one of my favorite shoes, and I took the midsole and outsole from the Court Force, because I knew it had translucent detailing that would let me add another layer into the design. The translucent outsole was also a callout to the Air Jordan 11 and how its outsole would yellow. I wanted people to wear these, to work and create in them, hence the "Game Worn" tag. They were made for the people that really put the work in. You can't put 'em on ice because the midsole will yellow, so you have to wear them, and you can look down mid-project and feel like Jordan.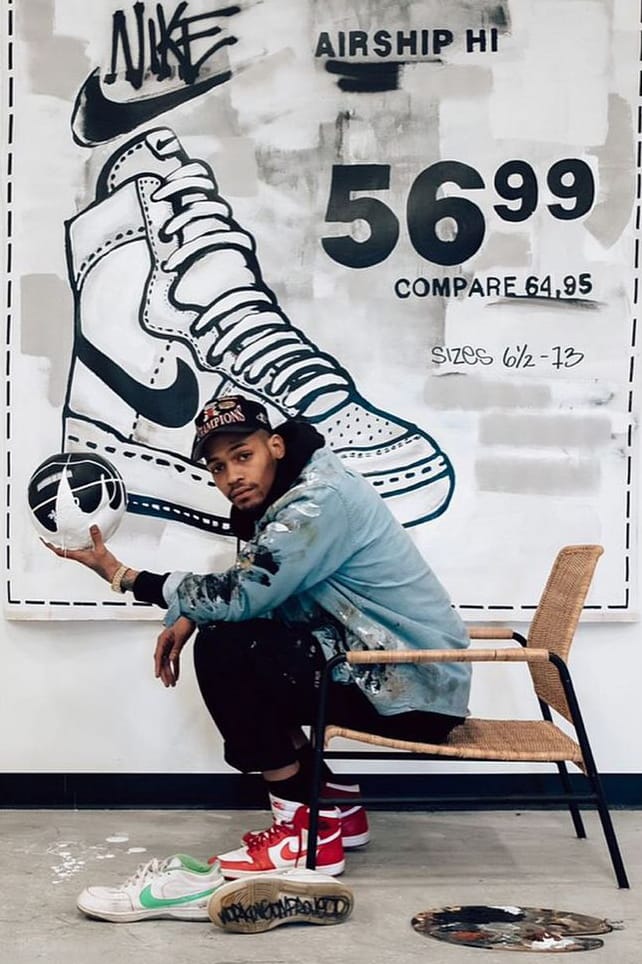 Lovewasher
When you were re-working the Sky Force, did you know Nike was going to use your revamped take on it as an in-line release later down the road or did that come a surprise to you?
I didn't get all the credit for that and that's fine. I'm an artist — I have 10,000 new ideas for every one that gets taken and reused. I saw the reach my ideas and vision could have, and that was more than inspiring enough to propel my future projects.
What other details did you have to hone in? I noticed that the leather is a lot softer and more malleable than what you'll find on most Nike sneakers.
Yeah, it's very buttery. I told the materials guys that I wanted the shoe to be so comfortable that you could get on a plane and not take your shoes off, because I hate when people do that [laughs]. If you create on the same kind of wavelength as me, you're no stranger to 10-12 hour workdays either, so I wanted that comfort and soft feel to last all day. The canvas pieces around the collar are supposed to represent the linen canvases I used to paint on. Lastly, the "Working On Projects" hit under the outsole was actually kind of inspired by American Psycho, the scene where Patrick Bateman kicks his feet up on the desk and the whole audience knows what's going on. The bottom of the shoe is a way to non verbally communicate that you're working.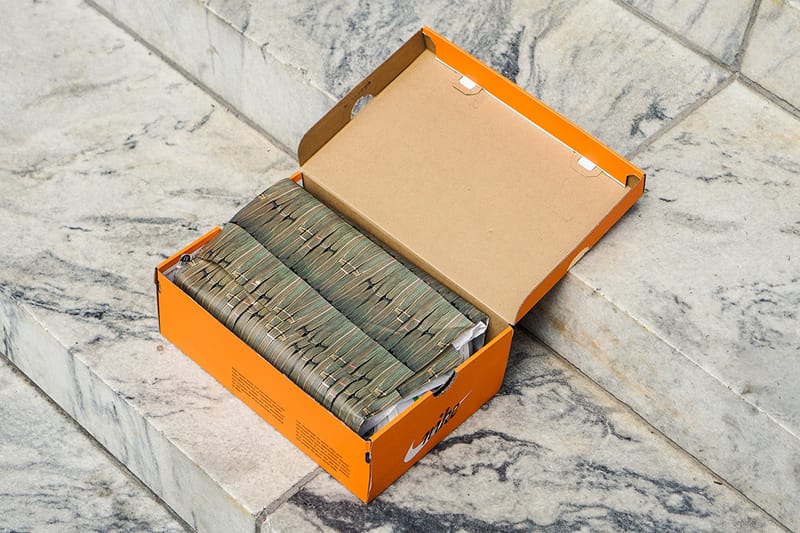 Hunter Revur/Hypebeast
Tell me about the packaging. It's incredibly detailed, especially the money print on the tissue paper.
I believe in a firm "product handshake." If someone came up to you to introduce themselves and shook your hand with a limp wrist, you'd look at them funny right? You want to appreciate something from the moment you first see it, and for me as a designer I want to set that tone from first glimpse. I wanted my OGs, guys like DJ Clark Kent, Curren$y and Rick Ross to see that packaging and feel some crazy nostalgia like "wow, I never thought I'd see money in a shoebox again." Before Venmo and PayPal, people put their money in shoeboxes and bibles. That was your first "bank" as a hustler and I wanted to nod to that to lock in that '80s inspiration even further.
Funny story: that's real money in those tissue paper photographs. I didn't have any money when I was making the shoes, but I asked a very affluent friend if I could take a photo of $40,000. We spread it out, photoshopped it and made it look like $400,000 [laughs]. I wanted that product handshake to be so good that people would save and frame their shoebox paper.
"Those green Swoosh pairs [of my Sky Force] are my version of giving out a Roc-A-Fella chain or a Jet Life chain, giving credit to my friends for believing in me."
The friends and family Sky Force has an avocado green swoosh and detailing instead of the black embellishments on the retail pair. I know there was a period when you were including avocados in a lot of your art — are there any parallels there?
To me, avocados symbolize wealth and opportunity. They're not cheap, and they have a timeline. If you buy an avocado and cut it open, you're not going to be like "you know what, I'm gonna eat this tomorrow" because it'll go bad. You have to eat it right then. It's a metaphor for seizing the day and taking advantage of opportunities in a timely fashion.
The reason I conceptualized that green Swoosh was because I wanted to create something to make the people who believed in me before I had any co-signs feel special. A love of avocados was a sort of inside joke between some of my closest friends and I as well. Those green Swoosh pairs are my version of giving out a Roc-A-Fella chain or a Jet Life chain, giving credit to my friends for believing in me. I paid it forward to my neighborhood too. We had a pop-up event for the "Game Worn" collection at Notre, gave out 500 scholarships, brought the suburbs to the hood [laughs].
Talk about a full circle moment.
For real!
Source: Read Full Article