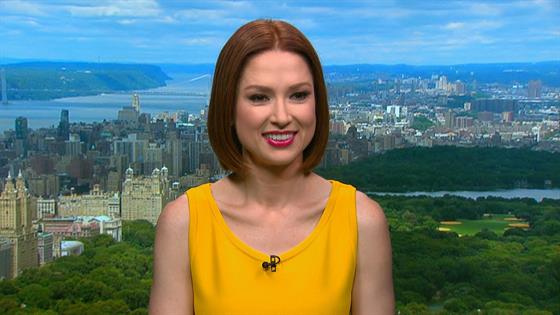 The one place that self-distancing can't keep us away from? Scranton, Pennsylvania!
While all of the current news has us feeling a mix of anxious and uncertain, one thing that has been lifting our spirits is rewatching shows that put us in a great mood.
And, what better show to do that than The Office?
Whenever we throw on the nostalgic sitcom, it makes us remember calmer times and helps ease our mood. Basically, it's like a familiar blanket to crawl under.
We've rounded up the ten most comforting episodes of the series for you to stream as you work from home or cuddle up on the couch.
These episodes highlight the character's most touching moments of coming together, falling in love and supporting one another.
In many ways, these are the episodes that remind us that while things are scary right now, eventually everything will work out just fine.
The best part? When Peacock launches this April, all of the seasons will be available to stream. Until then though, you can also find them on Netflix, making it the perfect show to binge.
Check out which episodes give us that warm fuzzy feeling below!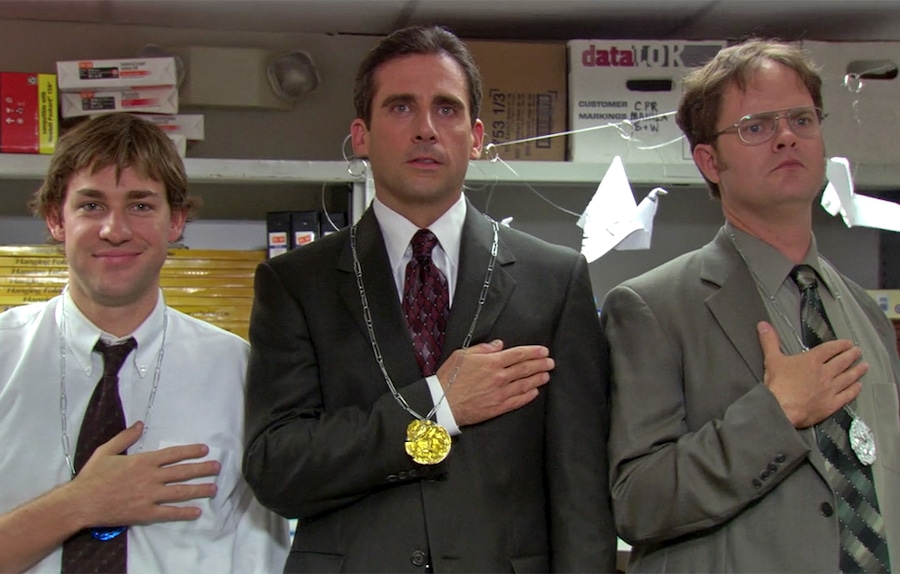 NBC
"Office Olympics"
This episode of The Office shines as each character gets to showcase one of the games that they play around the office, inspiring Jim and Pam to create an Olympics tournament of their own.
And when Michael tears up after getting a medal for closing on his condo, well, we tear up, too.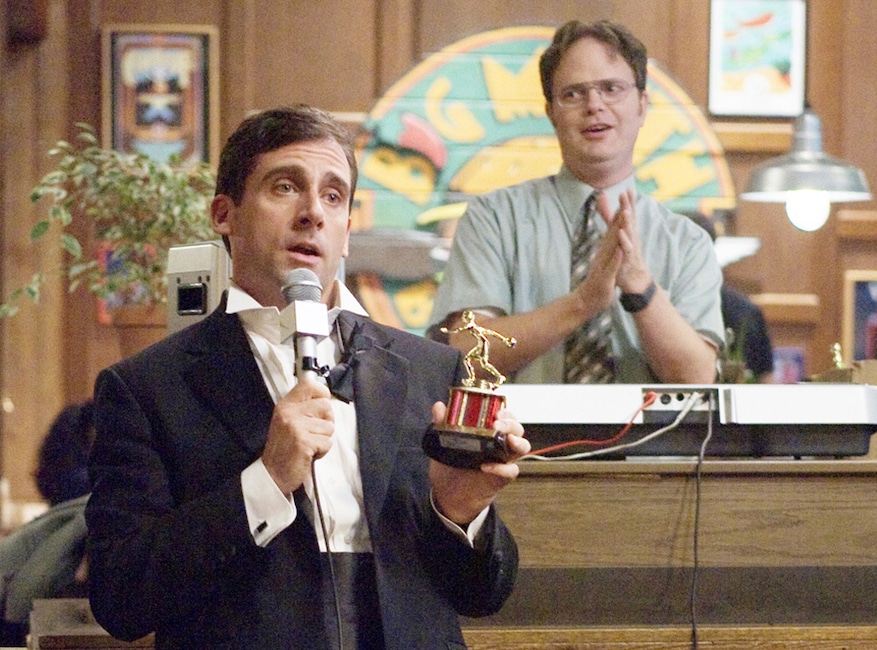 Paul Drinkwater/NBCU Photo Bank
"The Dundies"
Just like how Pam can feel God in this Chili's, we feel nothing but happy feelings when watching "The Dundies" and seeing all of our favorites come together for their office's version of an award show.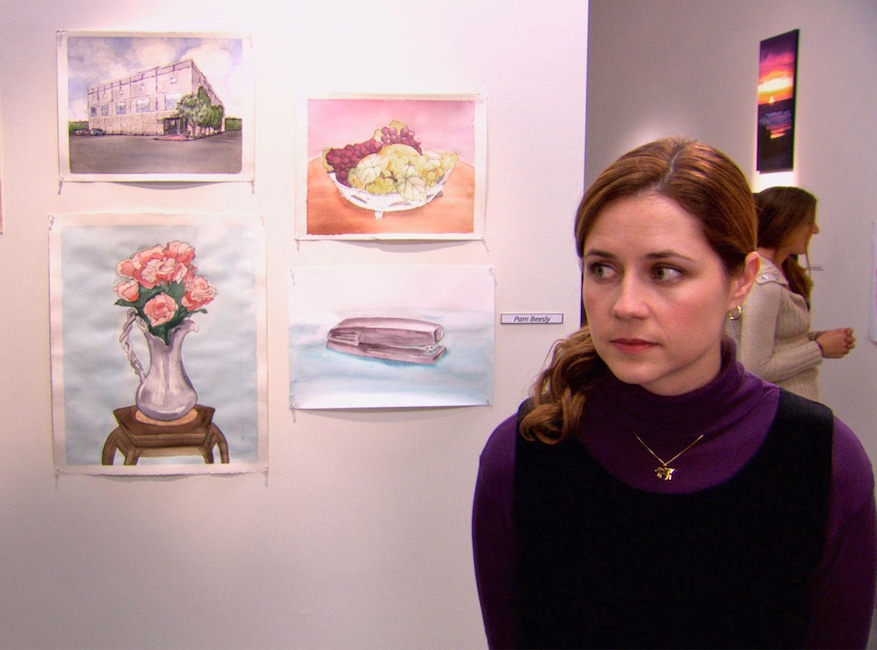 NBC
"Business School"
While there are plenty of hilarious moments in this episode, the heartwarming part we watch over and over is when Michael (who has just had a bad day after going to Ryan's business school) shows up to Pam's art show and falls in love with her drawing of the office.
"That is our building, and we sell paper."
Article continues below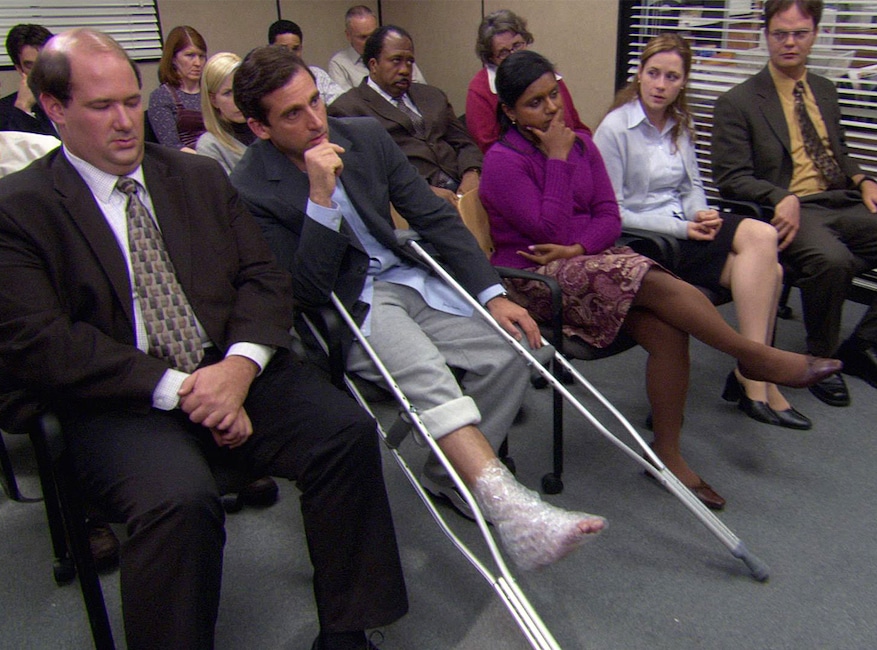 NBC
"The Injury"
From Michael burning his foot on a grill to Dwight becoming friendly after a concussion, this episode's humor is peak nostalgia for the series.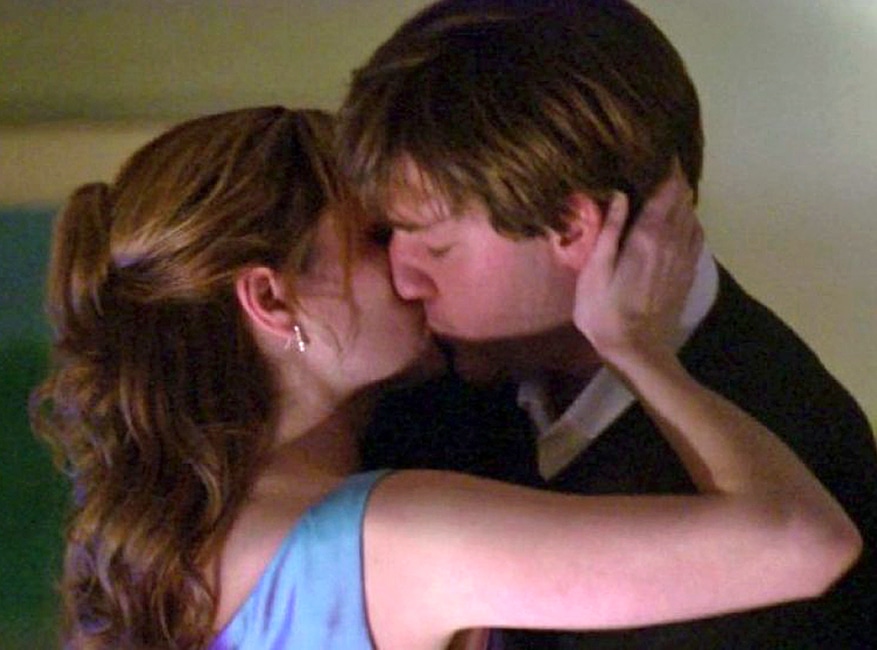 NBC
"Casino Night"
Spoiler alert: A lot of these episodes are Jim and Pam heavy.
And can you blame us? Their relationship was the heart of the show, and "Casino Night" was the episode where we finally saw the two act on their feelings for one another when they kissed for the first time.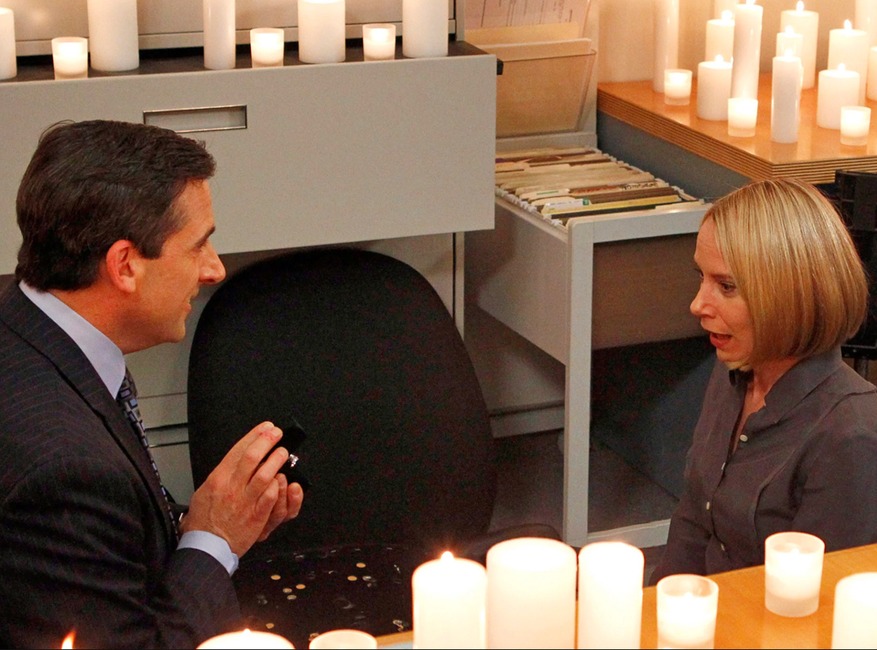 NBC
"Garage Sale"
Yes, Jim and Pam are the couple goals of the show, but it was touching to finally see Michael find his soulmate in the series, especially when his proposal with a room full of candles was the sweetest thing to see.
The ring that cost three years of his salary didn't hurt, either.
Article continues below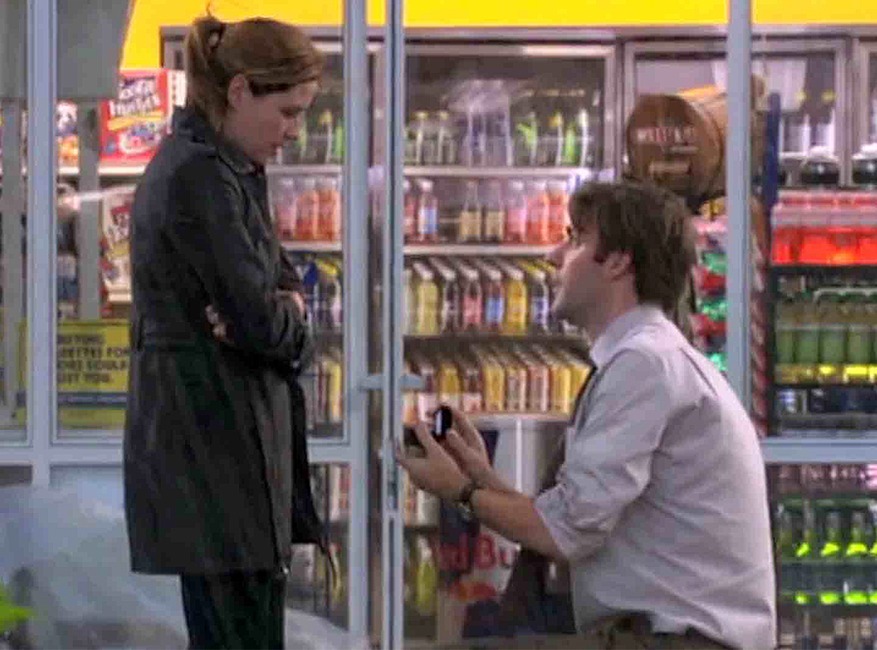 NBC
"Weight Loss"
Who would have ever thought a gas station proposal could be so romantic? Seeing Jim and Pam get engaged was one of the highlights of the series, and it gives us a fuzzy feeling anytime we rewatch the touching moment.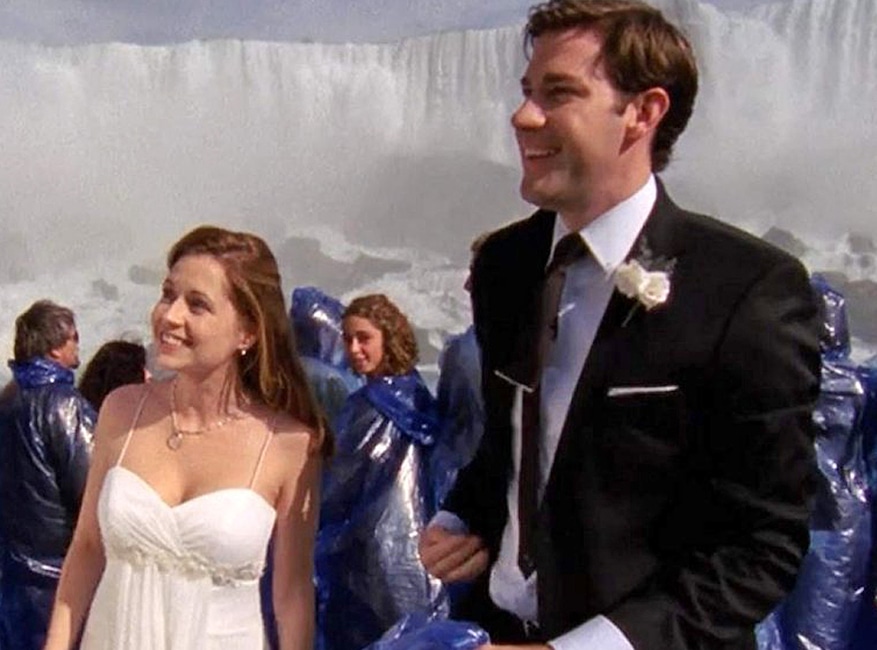 NBC
"Niagara"
While Jim's Plan A was to marry Pam a long, long time ago, we always can count on watching this two-parter episode to cheer us up.
From Pam and Jim getting married on Niagara Falls to the entire office dancing down the aisle, it's an episode that reminds us why this show is one of our absolute favorites.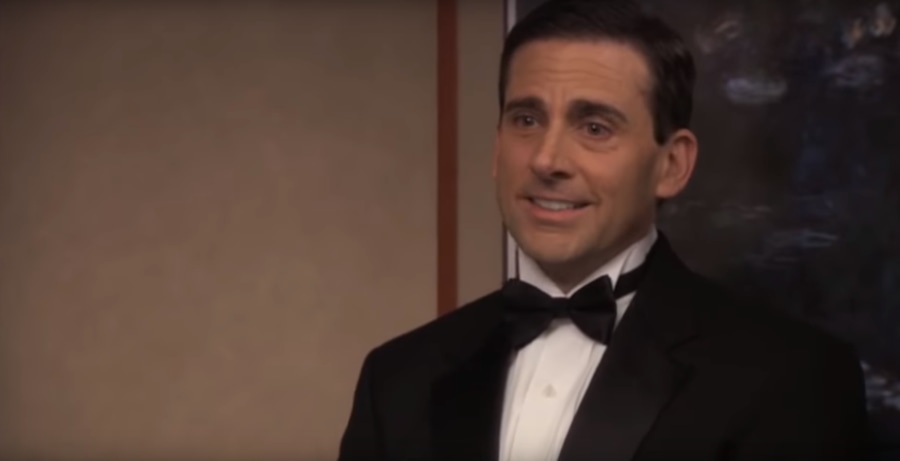 NBC
"Goodbye, Michael"
Nine million, nine hundred eighty six thousand minutes of Michael Scott being the branch manager at Dunder Mifflin was still too short for us, but this episode that sends off Steve Carell's character couldn't have been any more precious.
Article continues below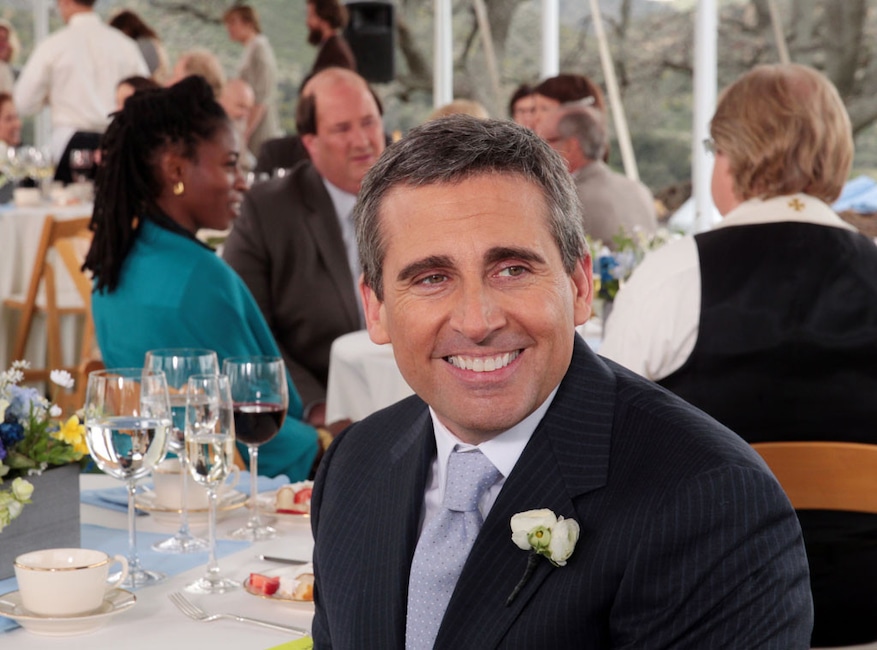 Chris Haston/NBC
"Finale"
It's hard to tie up a show, especially one as beloved as The Office, but we feel that the finale truly did an amazing job and fills us with warmth whenever we replay it.
Seeing Dwight and Angela get married, enjoying the brief return of Michael and spying Ryan and Kelly running away together brought the show full circle and reminds us that life is beautiful and everything will work out fine.
Source: Read Full Article