A new paradigm has emerged in the climate wars that will likely see a ceasefire between Labor and the government during the upcoming federal election campaign, as both major parties seek to balance pro-mining sector messages with their upgraded climate action policies.
The Adani coal project in the Bowen Basin was a lightning rod for the storm over climate change in the 2019 election, where the government held all its seats in Queensland's coal country on the back of a polarising campaign promising strong support for fossil-fuel projects.
The Adani coal project was used by the federal government in 2019 as a to wedge the Labor Party between urban and regional voters. Credit:Alex Ellinghausen
The Greens will ramp up a new Adani-style campaign centring on major gas projects such as the Beetaloo Basin, in the Northern Territory, and Scarborough, which is offshore of Western Australia. But it's unlikely either will capture the public imagination like Adani.
Ahead of the 2019 election, Prime Minister Scott Morrison derided Labor leader Bill Shorten's policy to promote electric vehicles and lambasted him for promoting the local job opportunities in the Adani coal mine to regional Queensland while advocating for ambitious action on climate change in metropolitan electorates.
A cautious opposition is determined to avoid a repeat of 2019. Labor leader Anthony Albanese says his party will back coal and gas projects as long as there is demand for their products.
Essential Media pollster Peter Lewis, who has close links to unions and Labor, said a repeat of an Adani-style campaign was unlikely because that issue was distinctive for offering "hope for jobs in local communities that were losing hope".
"Labor has adopted a smart strategy, in my opinion, to take the heat out of climate issues by refusing to engage the government in debates around specific coal and gas projects," Mr Lewis said.
The government faces a challenge from the Climate 200 group of philanthropists, which is backing independent candidates who champion strong environmental policies in government-held seats, such as North Sydney, Kooyong, Goldstein and Wentworth.
Mr Lewis said the independents would "act as a handbrake" on a repeat of the 2019 campaign, where the government mounted a scare campaign over what it called Labor's "economy-wrecking" climate policies.
"The dynamics this time are different to 2019. Then, Labor was effectively wedged between its inner-city voters and rural base. This time, it is the Coalition feeling the wedge from the community independents challenging Liberal seats like those held by Josh Frydenberg, Tim Wilson," Mr Lewis said.
"I think the government is more susceptible to the claims of double-dealing, with (Nationals leader) Barnaby Joyce deeply unpopular with urban voters."
Greens leader Adam Bandt has called out Labor over a failure to rule out support for the Beetaloo Basin, which is being explored by private companies drawing on federal grants, describing the potential emissions from the gas there as a "climate bomb".
"If you thought Adani was bad, Beetaloo is terrible," Mr Bandt said in October.
Greens environment spokeswoman Sarah Hanson-Young said her party would challenge both major parties' support for fossil fuels.
"The Greens are really clear about this: we need to see a change of government but you're going to have to have the Greens in there to hold Labor to account on climate and the environment. Labor's wanting to walk both sides of the fence and we need the Greens in there to be the honest arbiters."
Former Greens leader Bob Brown led a convoy of campaigners through Queensland in 2019, calling for the Adani project to be cancelled. Mr Brown has rejected Labor's accusations that he prevented the opposition winning crucial regional seats in that state, but credited his efforts with the election of Greens senator Larissa Waters.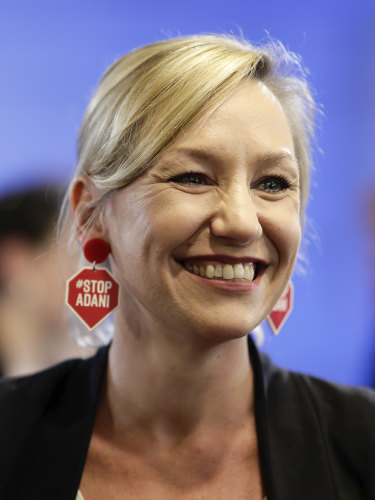 Bob Brown credited his Stop Adani convoy with the election of Greens Queensland Senator Larissa Waters in 2019. Credit:Alex Ellinghausen
However, Labor's environment movement is backing the opposition's approach, arguing that Mr Brown's divisive campaign was damaging to the green cause.
Labor Environment Action Network co-convenor Felicity Wade said: "It was good for the Greens, bad for the planet. Adani proceeded and a climate-denying government was returned. They will try a repeat with Beetaloo.
"Middle Australia is not yet convinced that fossil fuels have to go; the first step must be the positive one of delivering the new industries of a renewable energy superpower.
"But the environment movement has got wiser about tactics that divide Australians and empower the deniers. This time, they won't be handing the Greens an easy way to undermine those trying to build a national consensus on climate action."
The federal government last year committed for the first time to reach net zero emissions by 2050, a significant advancement, even if it remains welded to a relatively low mid-term target to reduce carbon emissions by just 28 per cent by 2030.
Labor has kept its commitment to net zero by 2050, and slightly downgraded the 2030 target from the 2019 campaign from 45 per cent by 2030 to 43 per cent.
The Morning Edition newsletter is our guide to the day's most important and interesting stories, analysis and insights. Sign up here.
Most Viewed in Politics
From our partners
Source: Read Full Article