Fashion has always been an expensive investment. And while fashion trends continually change, there are few clothing items that have become more iconic than the T-Shirt, with popularity first rising in America when they were introduced during the Spanish World War.
T-Shirts were initially given to members of the U.S. Navy to be worn as undergarments beneath their uniforms. Shortly after, the textile company P.H. Hanes Knitting began releasing their own version of the garment in 1902.
It wasn't until the 1950's though that the T-Shirt became a fashion piece that could define a culture.
When Marlon Brando sported the iconic T-Shirt design in his Oscar-nominated performance in A Streetcar Named Desire, the popularity of the T-Shirt skyrocketed, allowing the hidden undergarment to take center stage as a trendy fashion statement.
T- shirts quickly became adorned with several slogans, patterns, and tie-dyed designs, that showcased both individuality and self-expression.
During this phase, many bands, brands, and companies began altering their shirts with their different logos and statements, creating movable advertisements that consumers could wear. Some of these T-Shirts became so iconic that decades later, they transformed into highly coveted pieces of fashion that could fetch large sums of money at auction.
RELATED: 15 Celebs Who Look Hot AF In White Shirts
While many T-Shirts hold little more than their sentimental value from concert experiences or road trip destinations, a few have not just retained but accrued value over time. This list focuses on a few of those rare exceptions.
Here are the 11 most expensive and valuable T-Shirts of all time.
11

Led Zeppelin's 1979 Knebworth Concert T-Shirt, $10,000

A post shared by Led Zeppelin (@ledzeppelin)

Having only played two shows at Knebworth House in England, this T-Shirt's rarity has made it a valuable asset for hardcore Zeppelin fans.

During an eBay auction, the shirt was reportedly sold for a record $10,000 to a fan from from Australia.
10

Marilyn Manson's 1992 Graphic T-Shirt, $11,111

A post shared by @vintagerockshirts

This spooky T-Shirt was from the time Brian Warner, known under the moniker of Marilyn Manson, was still performing under the band name "Marilyn Manson and the Spooky Kids".

The shirt was purportedly given to a fellow musician in Fort Lauderdale, Florida right before Manson signed with Trent Reznor, dropping the "Spooky Kids" from his performance name.

Manson designed the shirt himself, making it even more valuable. The iconic T-Shirt sold on eBay for a reported $11,111.
9

Run DMC's Adidas T-Shirt, $13,000

A post shared by Origami Garms (@origamigarms)

This shirt was originally released as a promotional tool to help sell out an early 1980's Run DMC show.

Due to the rarity of 80's hip hop T-Shirts, combined with the ever increasing popularity and iconic cult status of Run DMC, this shirt was reported to have fetched $13,000 at auction according to MoneyInc via TheTalko.

The shirt is also a collaboration with streetwear giant Adidas who is no stranger to fetching high prices for their unique streetwear.
8

John Lennon's 'Home' T-Shirt, $16,400

A post shared by TEES IS ART⚜️ (@bulletmyshirt)

Adorned with the logo from his own restaurant, John Lennon reportedly wore this shirt everywhere: to shows, when being photographed in his home, even during several television appearances.

Intended to promote his own business, fans quickly took a liking to the iconic image and were willing to shell out large sums when it came up for auction. MoneyInc reported that the shirt sold for over $16,000, making it one of the most expensive and iconic T-Shirts of all time.
7

The Beatles' Butcher Cover Album T-Shirt, $20,000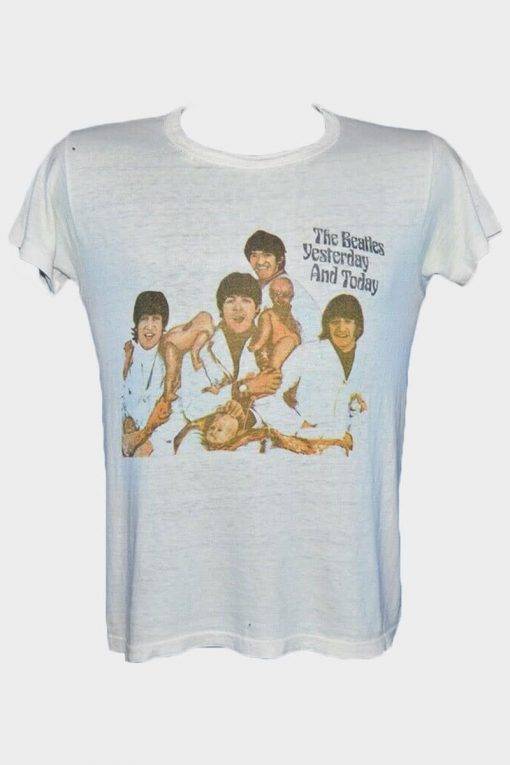 John Lennon is the only celebrity to appear on this list multiple times. Early on while he was playing with the rock band The Beatles, they released a shirt featuring the Butcher Cover of the album "Yesterday and Today" in 1966.
Originally intended as a statement in protest of the Vietnam war, Capital Records initially rejected the image as a possible album cover. Through pushback from the band, the cover stayed on the album.
In addition to the T-Shirt retaining its value, the vinyl record itself is also coveted by record collectors. Only 750,000 albums were printed featuring the controversial cover, resulting in the records selling today for anywhere between $5,000 and $70,000.
6

Keith Haring's Silk Screened T-Shirt, $25,900

A post shared by Ferm (@fermgallery)

Keith Haring was an iconic street artist from the 1980's who gained fame by painting the subway signs of New York City's underground. Like a modern day cave painter, Haring eventually began to print his own shirts, buttons, and pins that he sold at his iconic Pop Shop in New York City.

A marketing genius with viral attention prior to the social media craze, Haring made a name for himself by getting his artwork up everywhere. His work appeared on a variety of surfaces ranging from shirts from his supporters to some of the most famous museum walls in the world.

This hand screened shirt from the artist featured both his work and cartoon style scenes, adorned with actual paint drippings from his creative process.

The shirt sold on Etsy for a record setting price of $25,900, astronomically increasing the value of the GAP shirt it was printed on.
5

Hanes, UNICEF 1996 Olympics T-Shirt, $42,000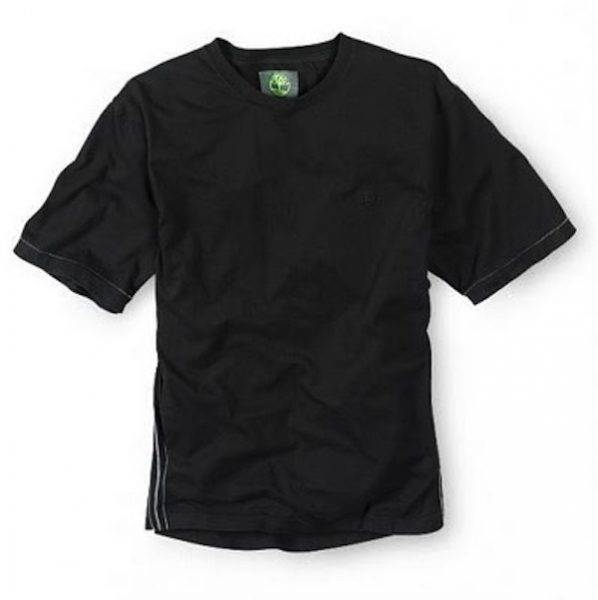 While this shirts value is astonishing, the purchase went to a good cause. Designed as a fund raising campaign to help poor children around the world, this T-Shirt raised a profit of over $1 million per day for several days over the course of the 1996 Olympics.
The price, while going towards a good cause, was surprising as there is no actual design printed on the front of the shirt.
4

Nike, Beatles' Revolution T-Shirt, $50,000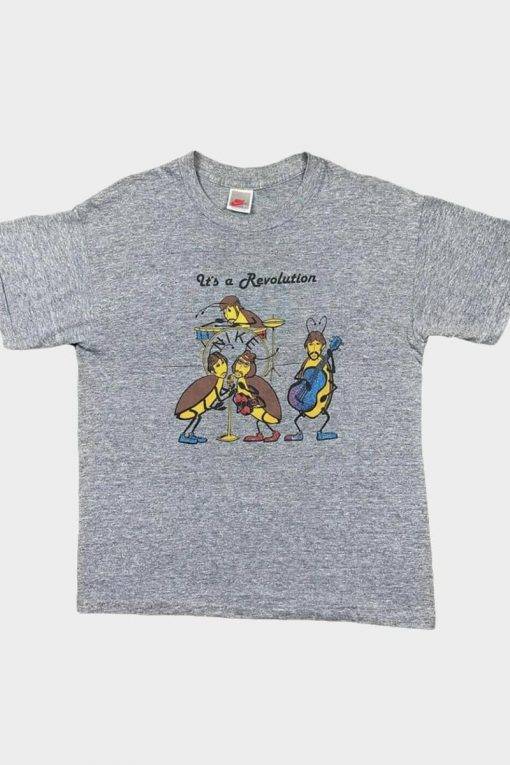 The second record-setting Beatles shirt to sell as auction is a collaboration with the footwear company Nike.
During a popular 1987 ad campaign for the company, they used the Beatles song "Revolution," which quickly became synonymous with the brands counterculture image.
The band vehemently opposed the use of their song, but Michael Jackson owned the rights to the music at the time.
Nike eventually decided to pull the commercial as well as any officially licensed merchandise, making this shirt a rare find for collectors.
3

Hermes Croc T-Shirt, $91,500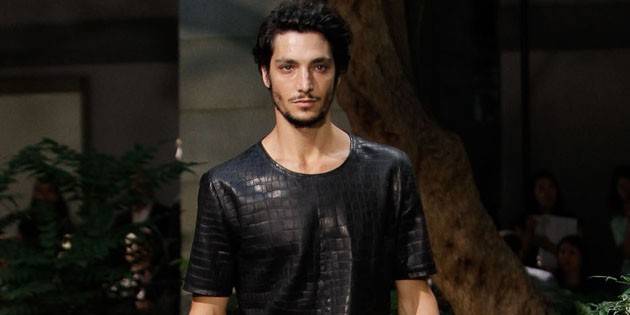 Composed of both crocodile and chiffon, this Haute Couture brand is known for its high priced fashion.
Due to its material as well as the brands reputation, it is no surprise that this T-Shirt would cost around $91,500.
2

UNICEF Cargo Flight T-Shirt, $300,000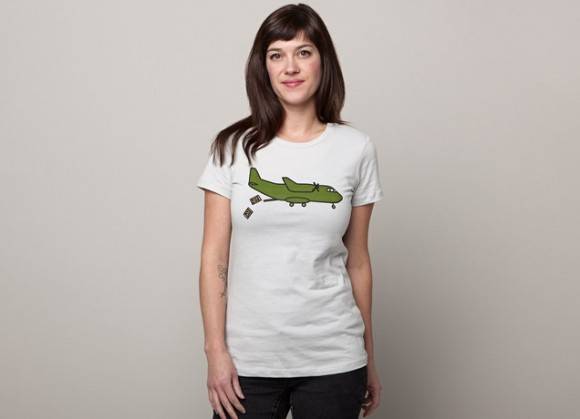 Designed as another benefit-based shirt, this simple T-Shirt design sold for what could be the price of a house.
All the proceeds from the T-Shirt went to UNICEF's main warehouse in Copenhagen where they distributed food and supplies to hungry kids in Nairobi, Kenya.
1

Superlative Luxury, $400,000
Containing roughly nine carats of both black and white diamonds, this is often considered to be the most expensive shirt in the world.
Superlative Luxury is known for their high priced fashion, but also for their environmentally conscious decisions.
This T-Shirt is claimed to have been made from pure green energy as the process of making it utilized solar energy and did not emit any CO2.
Beyond its diamond studded design, the T-Shirt is plain black, making it a surprising contender for the most expensive shirt of all time.
READ NEXT: Top 10 Best-Selling Wrestling T-Shirts of All Time
Sources: TheTalko, MoneyINC, FoundItem Clothing, Ragstock, Rush Order Tees, Vogue, Rolling Stone
Source: Read Full Article