The professional wrestling world is in shock following the death of wrestling legend Daffney Unger, who died at the age of 46. News of Unger's (real name Shannon Spruill) death were confirmed on Facebook by her mother, Jean Tookey Spruill. In her announcement, Unger's mother wrote, "It is with great sadness I have to let you know that my daughter Shannon Spruill…Scream Queen Daff, passed away suddenly last night. Absolutely heartbroken."
No cause of death has been revealed. However, the night prior to her death, Unger appeared in an Instagram video while visibly distraught, lamenting about the symptoms surrounding her the injuries that she suffered through her pro wrestling career, per People. In the video, she also appeared to be brandishing a small gun while discussing the possibility of having chronic traumatic encephalopathy (CTE) — a "progressive brain condition that's thought to be caused by repeated blows to the head and repeated episodes of concussion," per NHS. Symptoms include short-term memory loss, mood swings, difficulty thinking, and disorientation. In the video, Unger made her intentions clear that she wanted her brain "to be studied" and warned "future generations… don't do stupid s*** like me."
As the wrestling world continues to mourn her death, let's take a look at how Daffney Unger cemented her legacy in the professional wrestling business.
"The Scream Queen" is born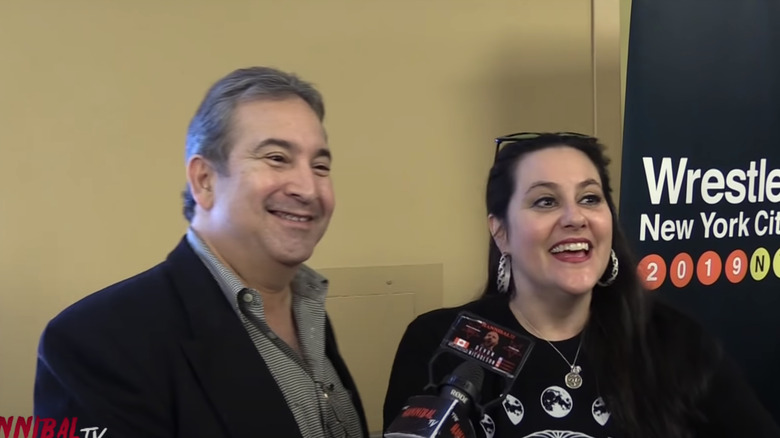 In 1999, the mysterious and unhinged character of Daffney Unger made her way onto television screens around the world for World Championship Wrestling (WCW) — who, at the time, was WWE's biggest competitor. Debuting as the girlfriend of David Flair (son of Ric Flair), she quickly became recognizable for her incessant ringside shrieking, earning her the nickname of "The Scream Queen." Eventually, the star made her way from ringside to inside the squared circle, where she faced off against men and women alike — a true testament to her strength.
She was eventually released from WCW in 2001 one month prior to the company's eventual demise and selling to WWE, per Essentially Sports. Following her release, Unger began wrestling on the independent circuit for promotions such as Ohio Valley Wrestling and Ring of Honor, where she notably managed pro wrestling megastar CM Punk. 
Unger would go on to become one of the most widely-respected names in women's wrestling as she journeyed through the prominent all-women's promotion, Shimmer Women Athletes, while also landing in Total Nonstop Action Wrestling (TNA) by 2008, per ScreenRant.
An "unsafe working environment" jeopardized Daffney Unger's career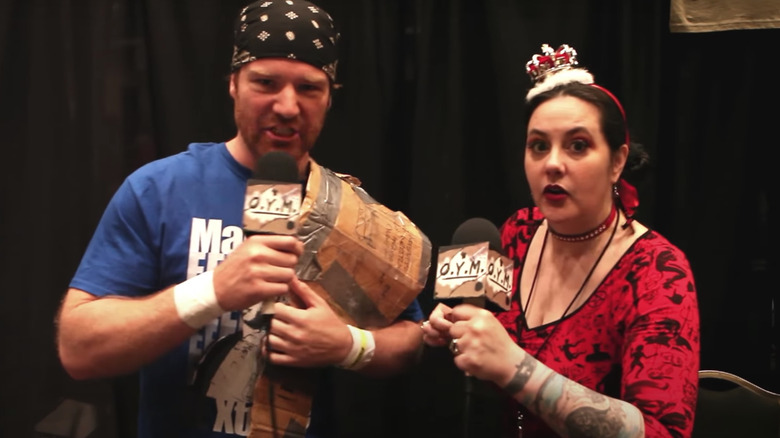 Following her signing with Total Nonstop Action Wrestling (TNA) in 2008, Daffney Unger graced national television again nearly a decade after her 2001 release from World Championship Wrestling (WCW). By December 2008, Daffney took on a new persona known as The Governor — a crudely obvious take on then-Alaska governor Sarah Palin, per the New York Daily News — in which she'd partake in various backstage segments. 
Eventually, she reverted back to her traditional Unger schtick and participated in dangerous matches, including one where she suffered a concussion after TNA wrestler Abyss chokeslammed her through a barbed wire-covered table, per Wrestle View. On top of the concussion, Unger later "suffered various head and neck injuries in April 2010" and "was hospitalized" following a grueling match, according to PWTorch.
In 2011, Unger departed from the company and filed a workers' compensation claim as she believed TNA "put her in an unsafe working environment," per PWTorch. In an interview with Diva Dirt (via PWTorch), Unger revealed, "I don't think I'm going to be able to wrestle anymore," adding that "[i]t's really hard" and "if I got in the ring and took any more bumps, I wouldn't be able to function as a normal human being." "It would just be too hard on my body," she concluded.
Source: Read Full Article