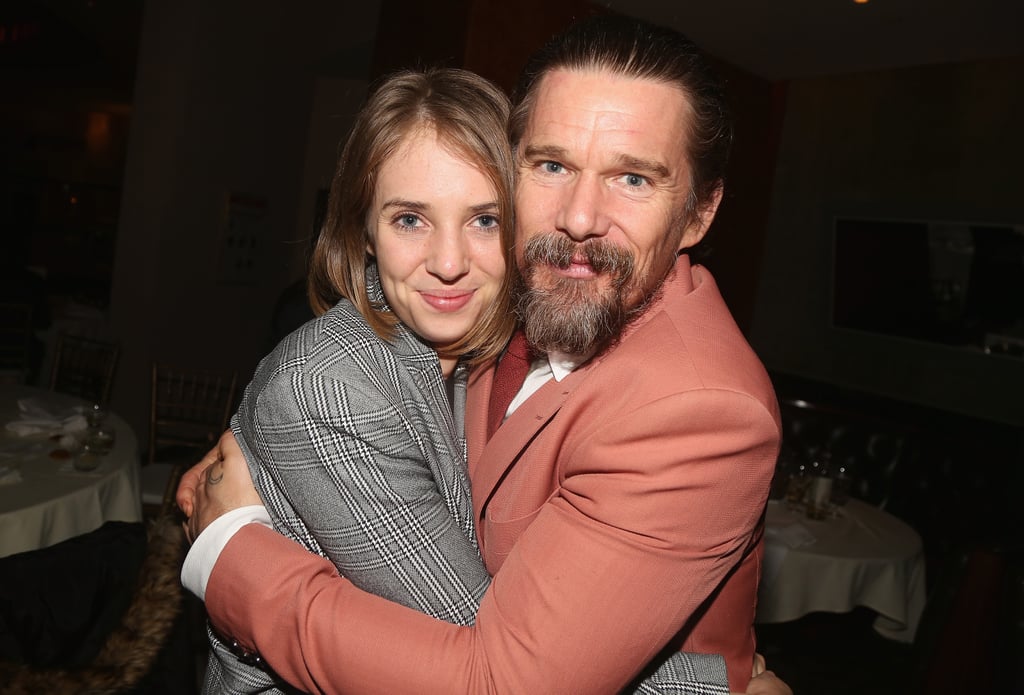 Maya Hawke Says She Loves Working With Her Famous Parents: "They're Really Awesome"

Maya Hawke's portrayal of Robin Buckley, the quirky Hawkins teen who befriends Steve Harrington in the third season of "Stranger Things," quickly made her a fan favorite. As it turns out, Maya's foray into the Upside Down wasn't her intro to Hollywood, though; she's been around red carpet royalty her entire life. The 24-year-old actor is the child of two major stars, Uma Thurman and Ethan Hawke.
Thurman is best known for her roles as Mia in "Pulp Fiction" and The Bride in "Kill Bill: Volume 1" and "Kill Bill: Volume 2." Ethan is known for playing Jesse in the Before trilogy and starred in the June 2022 horror film "The Black Phone." The pair met on the set of "Gattaca" in 1996 and married in 1998. They had two children, Maya and Levon Hawke, before separating in 2003 and divorcing in 2005. Ethan later married Ryan Shawhughes, and the pair went on to have two daughters, Clementine Jane Hawke and Indiana Hawke. Thurman has one other child, daughter Luna, with ex-fiancé Arpad Busson.
Though she is the child of two major stars, Maya said her parents initially discouraged her from pursuing acting. "They were wary of the public life side of acting and the difficulties of that," she told The Guardian in 2021. "They also tried to protect me from falling into acting. They wanted to ensure I had a strong enough backbone, my own passion for it and work ethic. They didn't want to cart me along every red carpet or have me do bit-parts in their movies." But Maya found her own way.
She starred as Jo March in the 2017 BBC adaption of "Little Women," and in 2019, she played Manson family member Linda Kasabian in Quentin Tarantino's "Once Upon a Time in Hollywood." That same year, she made her debut in "Stranger Things." Regardless of their initial reservations, parents Ethan and Thurman have since supported their daughter's acting endeavors. "Ladies & Gentleman, get to know MAYA HAWKE. She's the real thing," Ethan wrote in 2019 in an Instagram post about his daughter's "Stranger Things" debut.
Meanwhile, Thurman sang her daughter's praises in an Access Hollywood interview in February 2021. "She's, in the end, such a brilliant actress. Obviously, there's nothing else that she would have ever done," she said. "Her talent was so big. It's what she had to do."
Maya mentioned her mother on her June 28 episode of "The Tonight Show with Jimmy Fallon," where she told the host that Thurman's abortion made it possible for her to exist. "My mom wrote this really beautiful essay about her abortion that she got when she was really young and about how if she hadn't had it, she wouldn't have become the person that she had become, and I wouldn't exist," Maya said. "Both of my parents' lives would have been derailed if she hadn't have had access to safe and legal healthcare — fundamental healthcare." Thurman published an essay about the abortion she had as a teenager in the Washington Post in September 2021.
During an Aug. 11 appearance on "Live With Kelly and Ryan," Maya spoke about how much she loves acting alongside her parents, as she's set to star in future projects with both of them, such as "The Kill Room." "My dad brought me in to play his daughter, Annie Brown, on this TV show he did called 'The Good Lord Bird' . . . this past year, my mom had me come in and play a two-scene part in this movie that she's doing where we got to yell at each other," Maya said. "It was really, really fun. I love working with both of them. They're really awesome, and they're just amazing at their job."
Ahead, check out photos of the star and her celebrity parents.
Source: Read Full Article