Chrissy Teigen is never one to sugarcoat anything. The former supermodel and Lip Sync Battle co-host has grown a tremendous fanbase due to her not being afraid to keep it real.
From sharing her political views to being 100% honest about motherhood, Teigen is always authentically herself.
So much so, that even when she's spoken openly about her struggles with body acceptance and undergoing cosmetic procedures, she dives in deep and hardly leaves out any details.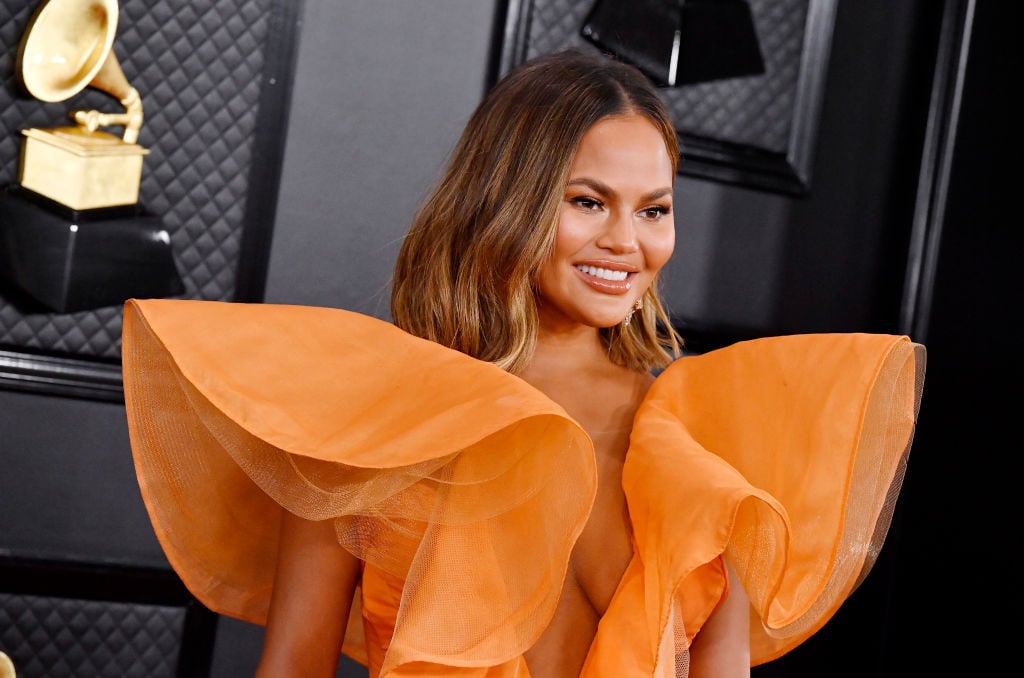 So, how much plastic surgery has Teigen had done over the years?
Teigen recently opened up about a previous procedure
When it comes to models, many of them are expected to have ideal bodies and upkeep an appearance that many acknowledge as unrealistic.
During her early days as a model, Teigen knew where the bar was set when it came to how she should look and recently admitted to falling into this expectation at the start of her career.
"Yeah, I did my boobs when I was about 20 years old," she revealed to Glamour UK. "It was more for a swimsuit thing. I thought, if I'm going to be posing, laid on my back, I want them to be perky! But then you have babies and they fill up with milk and deflate and now I am screwed. Honestly, I kept them the same cup size. I just filled them out, so they are rounder and firmer. I had a quarter 'teardrop' cup in the bottom and filled out the breast line."
Teigen went on to admit that though she'd like to have her implants removed and undergo another procedure, she doesn't think this would all be worth it in the end.
"If I could do one thing, it would be to have a lift," she added. "I think you're supposed to replace [implants] every ten years. But when you have kids you think about [the risks] of surgery and I think, 'This is not the way I want to die, in boob surgery.'"
She admitted that everything about her is "fake"
Revealing that she's had breast augmentation in the past wasn't the first time Teigen has been transparent about undergoing cosmetic procedures.
In 2017, the mother of two got real with Shape as she owned up the fact that she's gotten pretty creative when it came to Botox.
"Everything about me is fake except my cheeks," she told the outlet. She then reportedly pointed to her forehead, nose, and lips saying: "Fake, fake, fake."
Teigen went on to admit that she's not ashamed of the procedures she's had done and even detailed the most bizarre treatment she'd ever received.
"I had my armpit sucked out," she said, noting that it wasn't something she needed to have done but it helped her feel more confident in sleeveless tops. "It added two inches of length to my arms… [That fat] is coming back though, so I might need to go in and pay for it again."
Does Teigen want to undergo more plastic surgery?
Although she didn't have a problem fixing things on her body she was insecure about, Teigen's stance on cosmetic procedures has changed since she's become a mom.
During her February 2020 cover story for Good Housekeeping, the cookbook author admitted she's learning to embrace her post-baby body since her life no longer revolves around modeling.
"This is a new thing that I can change within my mind, that I don't have to be swimsuit model anymore," she shared. "I get to be a mommy, cook, and meet incredible people, and I'm happy to be going through this transition."
As for whether or not Teigen still experiences the urge to have another cosmetic procedure done, it seems like she's more comfortable in her skin now than she ever was before.
"I think, in a way, we've forgotten what a regular body looks like," she continued. "There are people out there who are struggling and I'm struggling, and it's OK to come to terms with that being OK, to realize that it's gonna be a bit of a journey."
Read more: Kim Kardashian and Chrissy Teigen's Friendship: How These Two Celebrities Have Remained Close Over The Years
Source: Read Full Article