Sometimes, you gotta distract yourself from the hard news with a sexy little treat!
Fox News commentator Brit Hume is being relentlessly ridiculed online for posting a screenshot on Twitter about the election — without realizing he left a tab open on his browser that said "Sexy Vixen Vinyl"!
The 76-year-old tweeted the screenshot at 5:37 a.m. Tuesday morning in attempt to update his followers on election betting odds on which Democratic candidate would beat Donald Trump. In his tweet, he claimed that Joe Biden was currently the "clear favorite" — but social media users were more interested in the tabs he had left open: the Sun Trust Bank website, an article on coronavirus, and, most memorably, a web page for "Sexy Vixen Vinyl."
Observe (below):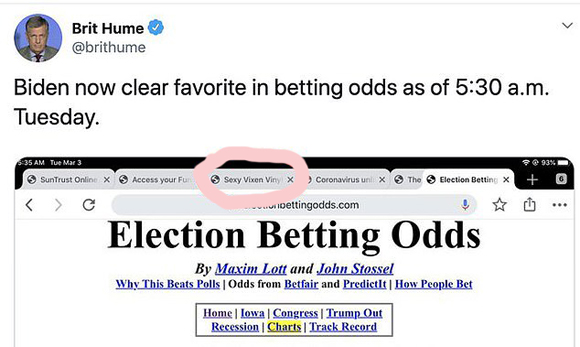 The post was kept up for about three hours before Hume deleted it. He went on to share another version, this time cropping out his browser tabs with the caption:
"Betting odds as of 8:15 Tuesday morning give Biden a commanding lead over Sanders. Trump still shown overwhelming favorite for reelection."
But by that point, Twitter users were already having their fun, sending replies like:
"Hi Brit! This is fascinating… but please tell us more about your "Sexy Vixen" tab."
"Brit loves sexy Vixen Vinyl"
"Love to wake up early in the morning and research my three favorite things: viral outbreaks, politics, and sexy vixen vinyl."
"Brit checking his money, his cash, his hoes, his health status, and election results at 5:30 am on a Tuesday… Same as me."
Other followers couldn't help but notice that Brit tweeted a similar screenshot about the election on Sunday with the same "Sexy Vixen Vinyl" tab open, writing:
"The ole Vixen tab is still there, and at 5:35 am on a Tuesday no less! Brit needs to be ready to go at all hours!"
"I'm just hoping that the love of sexy vinyl vixens among conservative commentators becomes an open, accepted and healthy thing and no longer has to live in the shadows. Brit: be the freak your little heart wants you to be."
"#SexyVixenVinyl4President"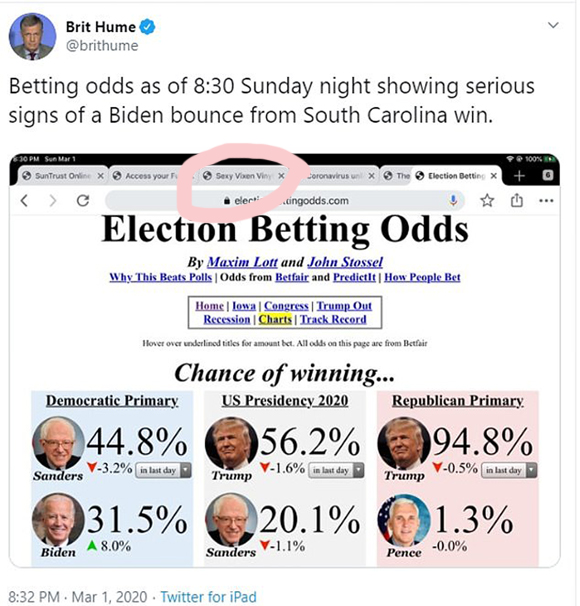 Ha!
It's not clear what the anchor was looking up, but a quick Google of "Sexy Vixen Vinyl" leads to a page on the costume website Yandy of a two-piece vinyl bra and micro shorts set. A description of the outfit reads:
"We saw you sneak a peek…so since you're here, take a moment to imagine yourself in this sexy look! This ultra sassy vinyl halter bra features underwire cups, square nail head stud accents, and a back zipper closure. (Gloves not included.)"
Honestly, we are 100% here for this. Let your sexy vixen vinyl freak flag fly, Brit!!
Related Posts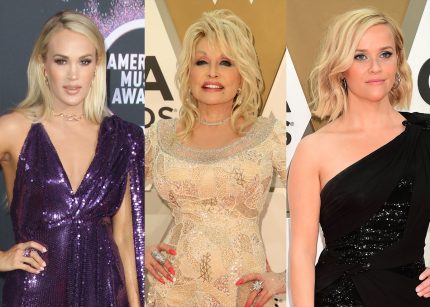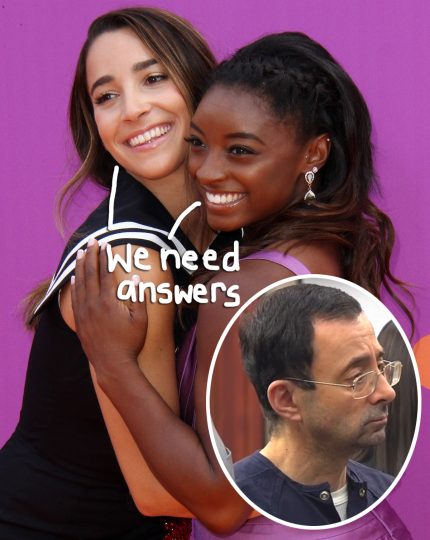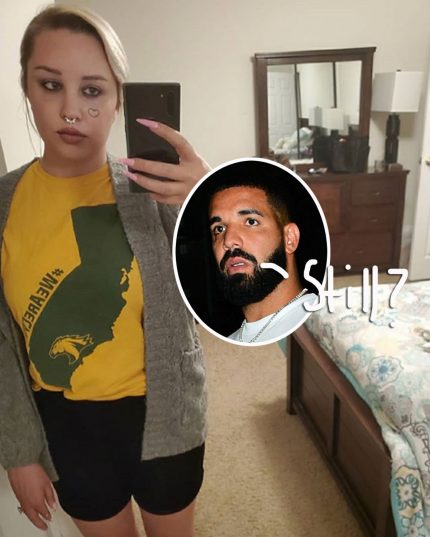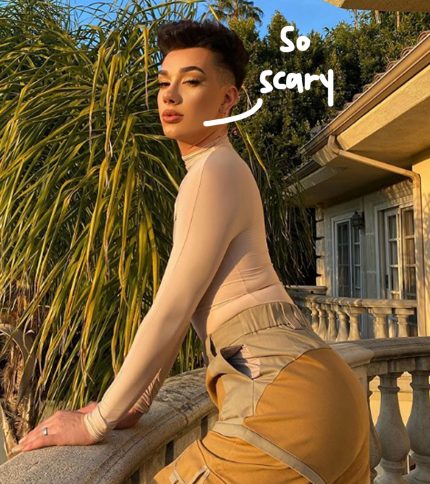 Source: Read Full Article