At the beginning of the year, Bachelor in Paradise's Caelynn Miller-Keyes and Dean Unglert began fostering a dog together. While the couple originally only planned to foster Pappy, they recently decided to adopt him.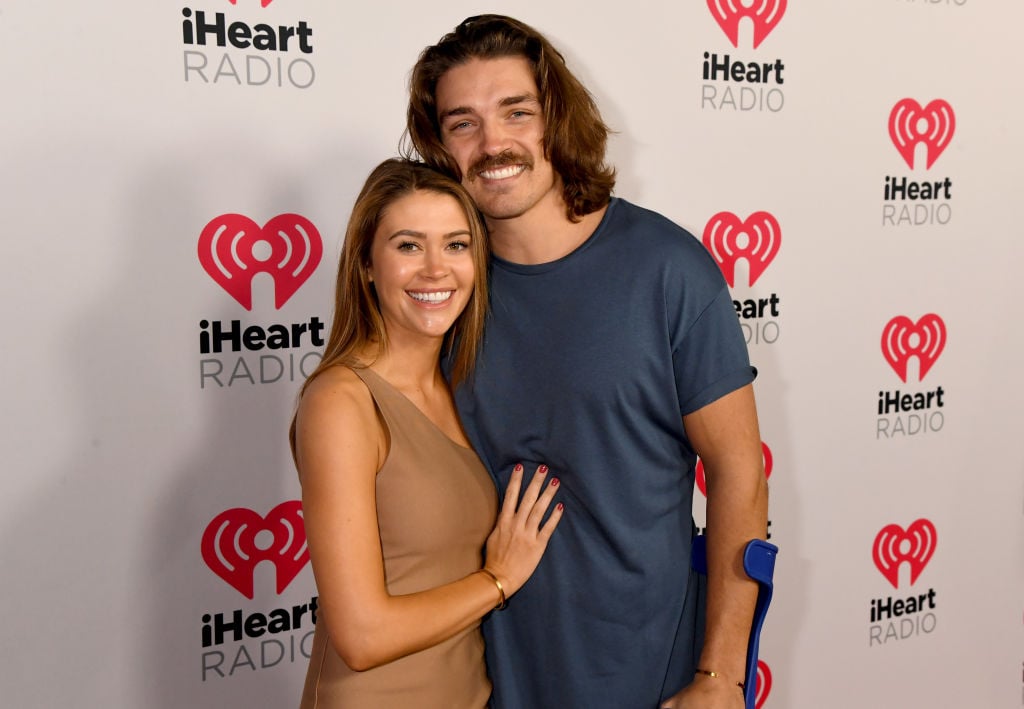 The couple began fostering the dog in January
Unglert and Miller-Keyes introduced their foster dog to the world in January 2020 on social media. On Jan. 17, Miller-Keyes posted a photo comparing Pappy to Baby Yoda on Twitter.
She tweeted, "Meet our baby yoda (pappy) that we're fostering for a little bit!"
Once the two began fostering Pappy, it became very clear how much they love the dog. Miller-Keyes and Unglert posted photos and videos of Pappy nonstop on social media. The couple even began taking Pappy on trips in the van Unglert owns.
"we backed the van up to the water, slept with the back doors open and got to listen to the waves all night. and we woke up to dolphins!" Unglert wrote on his Instagram story.
Miller-Keyes posted photos of her and Pappy on Instagram and wrote: "Pappy's first van trip."
Dean Unglert and Caelynn Miller-Keyes only planned to foster Pappy
Miller-Keyes and Unglert did not plan to adopt the senior dog immediately. Instead, the couple originally intended to foster Pappy until he was adopted.
"this little dude is the coolest! when we first mentioned we wanted to foster a pup we received so many fantastic recommendations on where to go. the first day we went to the west LA animal shelter and met a lot of amazing dogs but none that would be good for me given the state of my leg. we actually saw pappy there too but couldn't see him for some unknown reason," Unglert wrote on Instagram.
He continued, "the next day we paid a visit to @wagsandwalks and, lo and behold, pappy was there! we took it as a sign and took him home as fast as we could. this is my first time fostering and i already know it'll be so hard to give him up so, in the meantime, we're gonna give him all the love we can. if you're thinking about getting a pup, please consider adopting or fostering. there are so many pups that have so much love to give, all they need is a chance!"
Dean Unglert and Caelynn Miller-Keyes adopted Pappy
In February, Unglert and Miller-Keyes shared the news that they decided to adopt Pappy.
"happy bday pappy! it's not his actual bday but somehow this little sh*t convinced us to adopt him. it's not what we wanted to do when we originally fostered him, but d***it he left us no choice. this old geezer comes with a laundry list of health complications so we decided to fill his waning years on earth with as much love as we possibly can. and it doesn't hurt that he thrives in the van," Unglert wrote in an Instagram post.
On Instagram, Miller-Keyes wrote, "A lot has happened this week already. Yesterday I moved into my new place, today I got Lasik, and, most importantly… yesterday WE ADOPTED PAPPY. He's officially ours and we couldn't be happier. We definitely weren't planning on adopting, but we fell in love with this perfect little angel. Thank you @wagsandwalks for bringing this sweet old man into our lives."
Source: Read Full Article