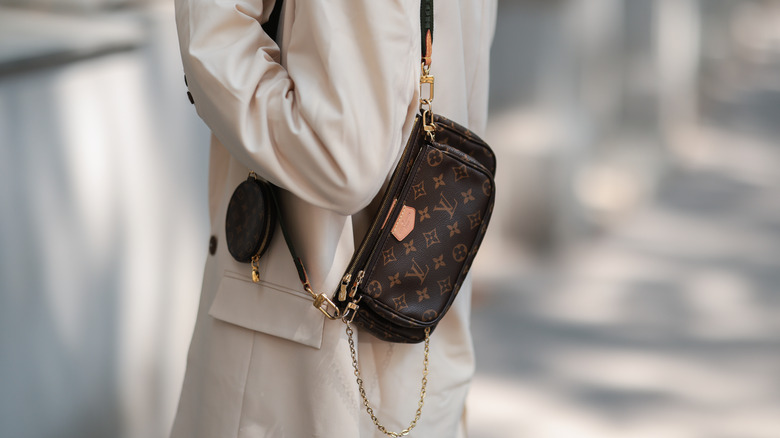 Well, well, well, it seems like our "Sex and the City" obsession is finally coming back to haunt us -– admittedly, we absolutely love it. Early '00s-era pochette bags are back in a big way, along with every other Y2K trend in existence. Cargo pants, checkerboard prints, and chunky platforms are all part of this year's repertoire, with cool-girl brands like I.AM.GIA and House of Sunny leading the way. Topped off with glittery makeup and crimped hair, you'll be a "Legally Blonde" meets "10 Things I Hate About You" style queen in no time. All you need is the perfect bag to match.
Pochette bags were an early-2000s sensation: teeny-tiny and in unexpected materials and prints, you might remember Carrie Bradshaw toting her Dior chain-print saddlebag all around New York City. As of late, Fendi's Baguette, with crystal buckles and monogram everything, has come back in a big way. Let's just say it's a pochette revival. Per The Guardian, these "minuscule shoulder bags" are meant to be worn right under the arm and evoke the monogrammed Louis Vuitton pochettes so popular in the early millennium. In fact, Louis Vuitton's smallest bag is once again on-trend, with Lizzo herself loving the white-rainbow colorway (via The Zoe Report).
This bag style should only "fit nary a lipgloss and a debit card" (okay, maybe your phone, too), and be the epitome of "good things come in small packages." Here are our 10 favorite designer pochettes. A word of warning: You might want them all.
Pochettes are all about rainbow hues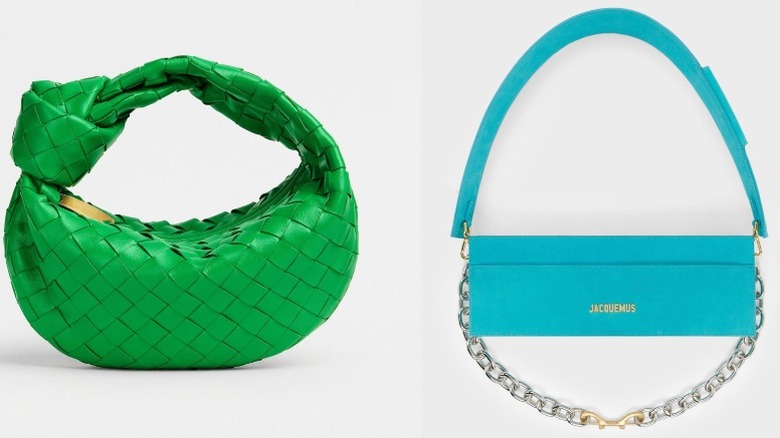 If a pochette isn't fun, then is it really a pochette? Existential questions aside, we're obsessed with these bags in rainbow-brite hues, giving any outfit a perfect, candy-sweet pop of color. We're basically drooling over this Bottega Veneta Mini Jodie Bag in Parakeet ($1,900), which might be the best colorway of all time. A neon-yet-warm bright green, the intrecciato leather detailing on this is impeccable. We can imagine grabbing this as the best hint of "icing" to an all-black look, or going the Carrie Bradshaw route and pairing it with everything in our closet all at once. This bag is made of an Italian lambskin-calfskin blend so it's super soft, with gold hardware to match some on-trend chain necklaces. Plus, just looking at it makes us happy, so there's that!
Jacquemus can do no wrong in our eyes, whether sending models down a runway in the middle of sweeping lavender fields in the South of France (via Vogue), or outfitting celebs like Kylie Jenner and Hailey Bieber in his structured blazers and sculptural heels. We're just as obsessed with his bags, which are notoriously compact and very cute. Although you might already be familiar with his Instagram-friendly Le Chiquito bag ($610), his Le Sac Ciuciu in Turquoise ($980) is the pochette of dreams. Best placed on the shoulder, the elongated bag is fit with an edgy chain, gold and silver hardware, and a very on-trend blue hue. In nubuck leather, this bag is supremely covetable.
Neutrals with an edge
While pochettes in unicorn shades are as fun as eating a bag of Skittles (okay, funner), you might prefer a neutral bag that takes you from day to night no matter the outfit. If that's the case, look no further than this year's newest "it" bag: the Balenciaga Extra Small Le Cagole Shoulder Bag in Black ($1,590). This pochette is already making the rounds with Instagram influencers like Matilda Djerf, who sports her bright blue version with casual outfits and nighttime glam. We love the hobo shape, which is small enough to be on-trend, but large enough to fit all your daily essentials from your phone to your favorite hand lotion. Studs and grommets make it a Balenciaga-signature, and can we just say we're obsessed with the hanging coin purse and heart-shaped mirror? The adjustable strap means this pochette works as a classic shoulder bag or as a crossbody –- here, it's all about options.
If you prefer sleek, minimalist glam, may we introduce you to Bottega Veneta's The Chain Pouch Leather Shoulder Bag in white ($3,690)? Yes, another Bottega Veneta purse, but hear us out: the impossibly-chunky gold chain strap is the epitome of '00s extravagance, while also managing to be chic, understated, and basically perfect. Also, it being a "pouch" bag, we had to include it with all our pochette faves. You'll love the "supple nappa leather," easy magnetic closing, marshmallow vibes (in the best way), and its ability to make virtually any outfit shine.
Pretty in pink pochette styles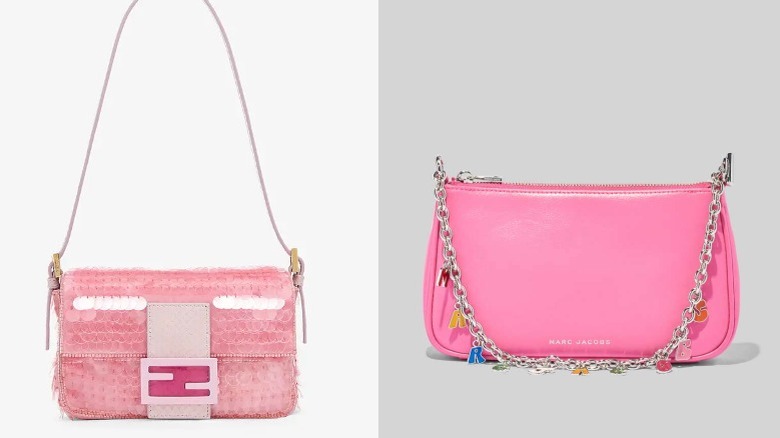 As any '00s-era obsessive knows, nostalgic pochettes start with all things Fendi. While Carrie Bradshaw notoriously took her brown whipstitch Fendi Baguette everywhere, and told an armed robber her purple sequined bag was "a Baguette," the trend became all-encompassing. Celebs like Paris Hilton and Jessica Simpson were known to love theirs, and now a new league of fashionistas and influencers can't let go of their own Fendi re-editions. We're obsessed with this Fendi Mini Baguette in Pink Satin ($2,950), which looks to emulate a past, much-loved design from 1997. In allover, iridescent sequins, this bag is a strawberry ice cream cone in a pochette, with a pink leather shoulder strap, FF logo buckle, and a rosy satin lining. It's meant to be worn under the arm, but detachable handles transform it into a clutch. The glitzy gold hardware is perfect, too.
If you love the idea of a pink pochette but prefer something more low-key, Marc Jacobs' Devon Charm Purse ($225) is a truly sweet alternative. This special pochette is from the designer's collaboration with influencer and cool-girl Devon Lee Carlson, who told WWD, "I had this vintage Marc Jacobs bag that I felt we needed to remake. It's easily one of my most worn bags." It's decked out in rainbow letter charms, a silver chain strap, and soft leather. Carlson said they "made the charm strap detachable so it could be worn as a necklace as well," which makes this candy-pink pochette even cooler.
Early '00s-era monogram revivals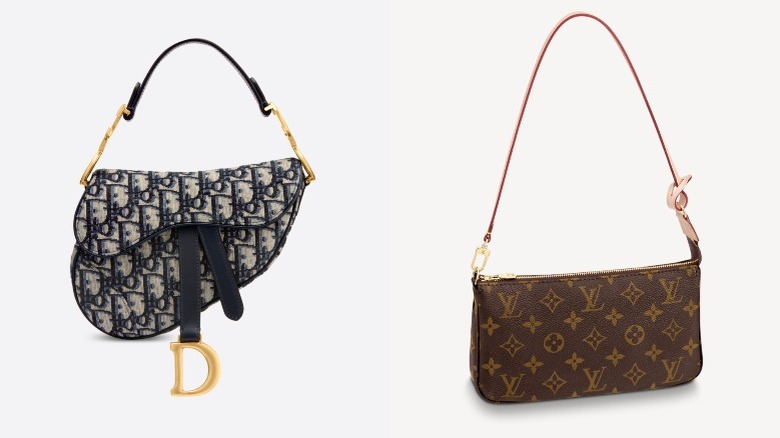 When we think pochettes, we think allover monograms in true '00s glory. While the time surely wasn't very minimalist, the 2000s made our hearts beat faster with sequins, embellishments, tons of color, and yes, lots of logos. Of course, we had to include two of the original pochettes that made Y2K fashion what it was: and that starts with the Dior Mini Saddle Bag ($3,250). We adore the Blue Dior Oblique Jacquard fabric on this, a nod to two decades past when maximalism reigned supreme. The gold D stirrup charm and CD hardware on either side are legendary, as is the signature saddle shape. This equestrian-chic bag is great for day-to-night –- we love it paired with a crisp white shirt, a denim mini, and sneakers. For even more options, add on a Dior Shoulder Strap ($1,200) to make it into a gorgeous crossbody.
As one Vogue editor remembers receiving her very own Louis Vuitton pochette ($790) for her bat mitzvah some years back, it's clear LV's version was the bag that started it all. Nowadays, the brand can barely keep this monogrammed pochette in stock, which features a simple zippered pouch in an allover brown logo print that pairs well with everything in your closet. Stuff it with your wallet, keys, phone –- it fits a lot more than expected. This pochette features delicate gold hardware, canvas lining, and a removable strap. Wear it '00s-style with a fun sequin top, jeans, strappy sandals, and glitter eyeshadow.
These hobo pochettes are minimalist and sleek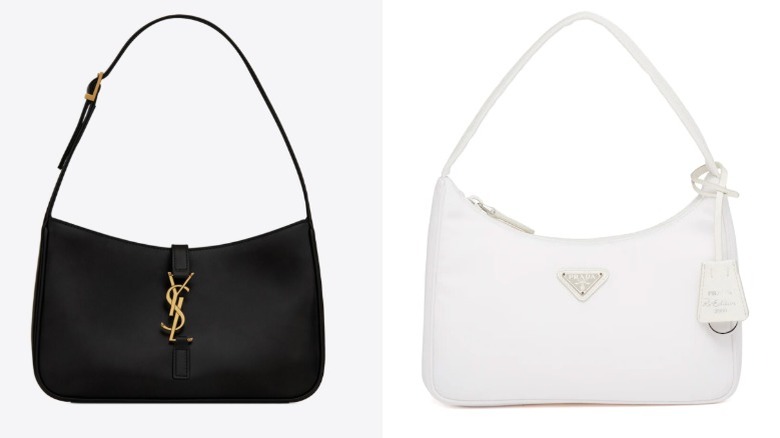 As we can see by now, pochettes are usually synonymous with in-your-face monograms, and tons of luxe embellishments and fabrics. That's exactly what makes 2000s-era fashion so covetable now, and why we can't stop watching all those "Friends" and "Lizzie McGuire" reruns. That being said, we still love our trendy, super-sleek neutrals, and our go-to uniform still consists of everyday straight-leg jeans, white sneakers, and a chic, simple top. If you prefer to keep your pochette understated, then we suggest going for the Saint Laurent Le 5 à 7 Smooth Leather Hobo Bag in Black ($1,690). The shape is the perfect crescent moon to place right under your arm, giving us total '90s and 2000s vibes. Meanwhile, the Italian leather is super-luxe, and the bronze YSL hook gives it the tiniest dose of monogram-mania. We truly love the look of this bag, and are equally obsessed with it in the creamy "blanc vintage" shade.
Last but not least, we have Prada's own revamping of a past classic: the Re-Nylon Re-Edition 2000 Mini-Bag in White ($895). This bag features a minimal shape in durable, functional nylon that can easily be wiped clean if needed, which we love. Made of recycled, purified plastic trash from oceans, the bag features a smooth zipper closure, woven handles, and the cutest hanging Prada tag. While we love this snow white hue that pairs with everything, we also adore this bag in Alabaster Pink and the new neutral, cornflower blue.
Source: Read Full Article